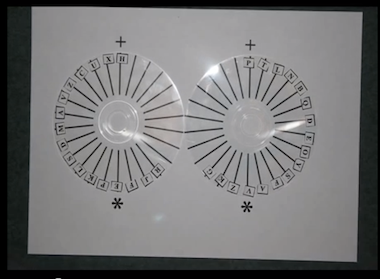 Moshe Rubin's Web site serves as an online clearing house of information about the Chaocipher. On the site he includes fact, fiction, and folklore about John Byrne's legendary invention from 1918. Unsolved for so many years, it finally took 57 years (from the publication of Byrne's "Silent Years" in 1953 until June 2010) for the cipher algorithm to be revealed.
Included here is link to a short chaocipher animation on YouTube, (pictured above) put together by Nick Pelling.
In Pelling's 3 July 2010 post about the Chaocipher on his site, Ciphermysteries.com, he describes the Chaocipher as follows: "The Chaocipher" is a devious cipher system invented in 1918 by John F. Byrne: allegedly, it was so complex that nobody could crack his challenge ciphertexts (even with the plaintext to refer to!), yet was so simple that its mechanism was claimed to comprise only two rotating disks small enough to fit in a cigar box, and could be operated by a ten-year-old (admittedly a diligent, determined and well-practised one) to encipher and decipher texts.