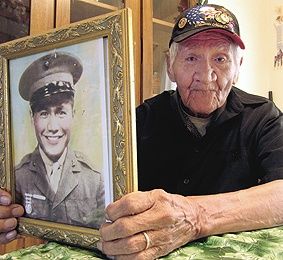 Lloyd Oliver, among last of original Code Talkers, dies at 87
by Connie Cone Sexton and Betty Reid
Mar. 18, 2011
The Arizona Republic
It took a little effort to get Lloyd Oliver into a dress coat in 2001 as he prepared to receive a 24-karat Congressional Gold Medal for being one of the original 29 Navajo Code Talkers. But when he saw the Marine Corps C-9 plane sent by his fellow Marines to take him to the Washington, D.C., celebration, his shy demeanor fell away and he beamed.
Oliver, who died Wednesday at age 87 of pancreatitis, is being remembered as a humble man, a talented silversmith and proud patriot.
The Glendal e resident was the second-to-last remaining Navajo Code Talker of the original group that designed an unbreakable oral code using their native tongue to confuse the Japanese during World War II. The last survivor, Chester Nez, lives in New Mexico.
Yvonne Murphy, recording secretary for Navajo Code Talkers Association, said the loss of Oliver is "a sad day in Navajo history.""He was one of the ones who laid the foundation for the design of the language that the Code Talkers used," Murphy said.
Oliver's death is a reminder to honor the work of the original Code Talkers and the wave of hundreds of other Code Talkers who followed, Murphy said.
Oliver, who was born in Shiprock, N.M., would have turned 88 April 23.
In 1942 at age 19, he left the reservation to help in the war. After training as a Code Talker, he served on the islands of Guadalcanal, New Britain, Saipan and Peleliu. He was a corporal when the Marines cut him loose in 1945.
Over the years, his memory of the war faded but some never vanished, including the night when he was in a foxhole on Guadalcanal and "the bombs rained" down, knocking him unconscious. When he awoke, bodies of his fellow Marines and of Japanese soldiers were scattered around him.
During the 2001 celebration, President George W. Bush noted the importance of finally recognizing the original group. "Today, we honor 29 Native Americans who, in a desperate hour, gave their country a service only they could give," he said.
When asked by an Arizona Republic reporter in 2001 about his legacy, Oliver was hesitant. "Am I a hero? I don't know," Oliver said after some thought. "Yeah. I'll be a hero," he finally said. "I'll go for that. Yeah."
Getting to serve his country was an honor for Oliver, said Marilynn Atkinson, who developed a deep friendship with him starting in the 1970s.
Oliver, a silversmith, made jewelry that Atkinson sold in her store, Atkinson's Trading Post in Scottsdale. "He was such a good soul," she said. "He was always very quiet, soft-spoken and a little shy. But he was just somebody you enjoyed being around." And he was talented, she said. "Back then, silversmiths didn't sign their work but had their own distinctive style. He always liked the heavier weight of silver and working with larger stones." Oliver sold pieces in her store into the 1990s, and they stayed friends beyond that.
When it came time for him to travel to D.C., Murphy said he didn't talk about it much but was willing to go through a slight metamorphosis, clothes-wise, to prepare. Oliver had simple tastes, favoring polyester pants, a plain shirt, sneakers and a purple Diamondbacks cap. By the time he met President Bush, it became gray jacket, brown vest, white shirt and brown cowboy boots. But he put the purple baseball cap back on.
Atkinson said Oliver never talked much about his time helping the country win the war. "Getting the medal didn't change him much," she said. "But he was proud of what he had done. He couldn't wait to show off his medal."
Murphy, whose father, Raymond Smith Sr., was one of the Code Talkers who came after the original group, said Oliver's contribution "speaks volumes for himself, the Navajo people and the United States.""It was such a complex code that just couldn't be broken," Murphy said.
Oliver is survived by his wife, five children, six stepchildren, 19 grandchildren and 25 great-grandchildren.
Read the article online.
Note - The last survivor, Chester Nez, lives in New Mexico. You can find articles about Nez on our site.