NCF Participates in SXSW-HBCU Event in March 2022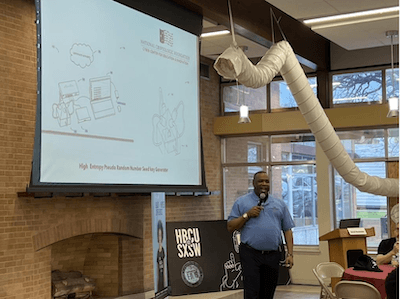 NCF President & CEO Laura Nelson and NCF Senior Advisor for Training Darnell Washington represented the National Cryptologic Foundation (NCF) at a SXSW-HBCU event at Huston-Tillotson University in Austin, Texas on March 11th.
The event was sponsored by The Opportunity Hub (OHUB), providing an opportunity for young entrepreneurs from HBCU institutions to pitch their new businesses to a panel of experts. As the lunch sponsor, the NCF had the opportunity to introduce the attendees to the NCF.
Mr. Washington provided a presentation about the African American experience in Cryptology and explained how cryptology plays a role in our lives every day. He also explained why, as young business owners, cybersecurity is critical to their businesses.
The Opportunity Hub was founded in 2013 by highly successful tech entrepreneurs in Atlanta, GA as the first and largest multi-campus co-working space, tech hub, and entrepreneurship startup incubator. Their focus is to increase authentic diversity, equity, & inclusion in the tech, startup, and venture ecosystem.
This was a fantastic opportunity for the NCF to engage with these young entrepreneurs and promote the NCF and the importance of cybersecurity in their startup businesses. We were thrilled to receive great feedback from the group and look forward to future opportunities together.