Guy H. Stephens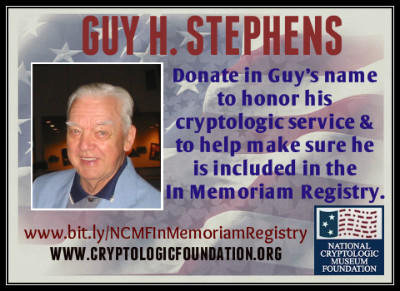 Guy Harold Stephens passed away peacefully on Tuesday, August 9, 2016, in Brandon, FL. Known to many as Jack, he was born on October 26, 1919 on Blennerhassett Island. He grew up in Belpre, OH with his parents, Celia and Roy, and his younger siblings, Bob, Wilda and Eloise.

Guy attended Marietta College but went on to serve in the U.S. Army during WWII before graduating. After the war, he found himself working with the federal government in Washington, D.C. His Army experience and work for the State Department evolved into career with the National Security Agency (NSA) where he was one of NSA's original employees. He traveled extensively and lived overseas during part of his career. He met his wife Jean in the Washington D.C. area with whom he raised his daughter Sherry and son Brian.

Although his wife, daughter, and siblings previously passed away, he was closely connected with many family members and friends. He is survived by his daughter's children, Eric and Alisa, as well as his son-in-law, Ray Barber, his son, Brian, daughter-in-law, Valerie, and their three children – Josh, Skylar and Haillie. He has many more family members and friends that stayed connected during his life. Guy hosted his last annual NSA Reunion with his co-workers on his 96th birthday last year, ending a 20-year tradition.  Guy was an amazing Cryptologist and a wonderful, kind person.  He was an active Phoenix Society member for 20 years. 

After retiring, Guy returned to Marietta College and finished his bachelor's degree. He continued to travel to most of Olympic Games and had a passion for sports, particularly Swimming and Track and Field. He contributed to many charitable organizations, including the Belpre Historic Society, John Lawton Opportunity Scholarship Fund for Belpre High School students, Marietta College, renovations for the Putnam House on Blennerhassett Island, Girl Scouts, and the American Cancer Society.

Guy also helped many family members and friends privately in their times of need. He loved his country, sports, family and friends, and cared about making the world a better place. He had a great sense of humor and, even in his most challenging times, left smiles and memories with visitors and the hospital staff during his last months.

A service will be held on Saturday, August 20, 2016 at St. Marks Methodist Church (302 Maple Street, Belpre, OH) at 1 PM. All are welcome. There will also be a gathering at 2:30 PM at the North End Tavern (3500 Emerson Ave, Parkersburg, WV) and all family and friends are welcome there too.

In lieu of flowers, memorials may be made to any of the charities mentioned above should one of them have meaning to you.
If you wish to extend condolences, you may address them to:
Brian Stephens and family (Brian, Val, Josh, Skylar and Hallie), 16908 Falcon Ridge Road, Lithia, FL 33547;
Ray Barber (son-in-law), 6419 Woodville Drive, Falls Church, VA 22044-1428;  Alisa Barber, 4641 Hercules Avenue, Jacksonville, FL 32205-5112, and                Eric Barber, 310 Campbell Street, Madison, WI 53711-2206.
**If you have a story or thoughts to share about Guy/Jack or perhaps a photo, please feel free to send them to webadmin@cryptologicfoundation.org
***Donations made to the NCMF in Guy's name will help to assure he is included in the In Memoriam Registry. When donating, make sure to note Guy's name in the Tribute Information section of the online donation form. Visit our Donate Page now.
Memories of Guy H. Stephens
I am sure that I am not alone in my memories of Guy Stephens but I felt I needed to say that I owe my career to this man. I was assigned to NSA Ft. Meade in January 1960 as a Spec 4 directly out of ALS, Monterey. B Group was pretty small back then but growing by leaps and bounds. Guy took a special interest in me and despite my being very low on the totem pole I did speak with him several times over the ensuing 18 months. Due to be discharged in July 1961 I was approached by Len Schlauch, Chief of B26 who told me that Guy wished to offer me a civilian position in B2. There as a freeze on at that time and most employees of my ilk were frozen at GS-7. Guy went to the trouble of authorizing me to be hired as a GS-9 thereby starting me on a 29 year plus career that culminated in my retiring as Deputy J2 for Resources, USCINCPAC. In 1975, discouraged by the US withdrawal from Viet Nam and about to embark on a 1 year sabbatical from the Agency, I visited Guy in Naples, FL. During that visit, with my family, Guy urged me to continue my career path but told me that if I decided to leave the Agency I should stay in the intel community as he believed I could make a valuable contribution no matter which agency I worked with. I did leave the Agency but I followed his advice and we stayed in touch sporadically until my retirement in 1993. Without Guy's advice and guidance I am not sure where my life would have gone. With his wisdom I enjoyed a fulfilling and rewarding career. Thank you, Guy.

Harry Williams
Reno, NV and East Sussex, UK