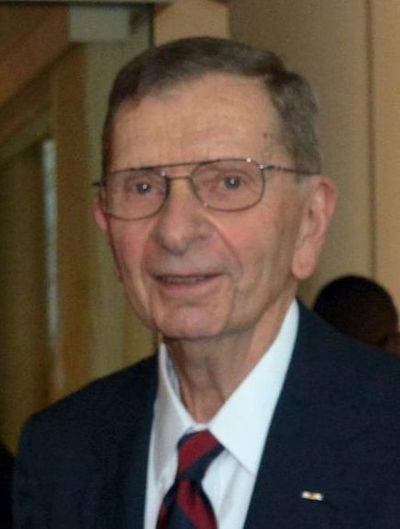 William T."Bill" Kvetkas, Jr. (October 10, 1930 - July 8, 2020) was born and raised in Wilkes-Barre, PA. He attended Meyers High School there and was selected for the PA high school state Band. He attended the Wharton School at the U of Penn. where he was a member of the AXP fraternity, was selected for Beta Alpha Psi, the accounting honorary society, and played in the Penn band. He received his MA degree from George Washington U. while serving in the Air Force and went on to get a law degree from Georgetown U. where he was selected to join Phi Delta Phi, the law honorary society. Subsequently he passed the D. C. Bar, became a CPA in MD and was admitted to practice in DC and before the U. S. Supreme Court. He also graduated from the National War College, the NISM program at Harvard, and the Federal Executive Institute.

Bill received a number of honors during his working and volunteer careers among which were the National Intelligence Distinguished Service Medal (he was the first person to receive this distinction twice), NSA's Exceptional Service Award, and Meritorious Service Award, and two Presidential Service Awards.
Bill was devoted to his wife of 62 years, Joan, and they were blessed with four children Therese, Bill, III, Mary and Ellen as well as four grand kids Grace, Daniel, Katie and Karl. He often rued the fact that he had taken too much time away from the family while traveling for the government. He and Joan spent a tour of duty in Germany where Therese and Bill III were born, and later traveled extensively in the USA and overseas, often with family members joining them. 

Bill developed a system of Programming and Budgeting used by George H.W. Bush while Director of Central Intelligence (DCI) to prepare budgets for the Intelligence Community and to send those Budgets to Congress with clear explanations and justification. Congress had been dissatisfied with the disparate nature of the Intelligence Community and its lack of coordination causing them to issue directions to strengthen the community. Mr. Bush had been designated as the new DCI to implement these directives, and Budgets were a key factor involved. After the change in administration in 1977, Mr. Kvetkas modified the system to accommodate the demands of the Zero Based Budgeting (ZBB) system instituted by Pres. Jimmy Carter. Previously he had recast the Programming and Budgeting system at NSA to more effectively produce the Cryptologic budgets. One aspect of that system received recognition of the Association of Governmental Accountants. Earlier in his cryptologic career, both as an Air Force Officer and as a civilian he served as a senior manager, an Assistant Inspector General, a reporter, a traffic analyst, a cryptanalyst, an intercept control officer and on the Director's staff at NSA. As an extracurricular activity he became President of the employee's insurance organization and saved the membership money by renegotiating a major contract. He was involved with the Korean and Viet Nam wars and the Cold War.  

After retiring from the government, he worked for Lockheed Missiles and Space Corp. in Rosslyn, VA and in Linthicum, MD. Later he served as a senior staff member of the "Aspen/Brown" Commission which was charged with studying aspects of the Intelligence Community. Ignoring advice from friends to limit volunteer activity in retirement, he became overly involved in a variety of activities. He was Chairman of the Board of the Association of Former Intelligence Officers, Treasurer and consultant for the National Cryptologic Museum Foundation, a member of the Security Affairs Support Assn., President of the Bay Winds community band as a percussionist and was a Volunteer Historian at the NSA. Bill was an avid genealogist, more importantly he loved to write the history of families and family members. Perhaps his greatest passion was travel; consequently he and Joan spent a good deal of their retirement time cruising the world. He also enjoyed the water, especially sailing.
Note: Bill served as the NCMF treasurer from 1996 to 2003.  He was an original plankholder and one of the first to pledge his commitment to the concept of a "new world-class museum" which earned him a Benefactor status. He remained a consultant until 2015.

A Mass of Christian Burial was offered at St. John Neumann Catholic Church, Annapolis, MD.  He was buried at Lakemont Memorial Gardens in Davidsonville, MD.
In lieu of flowers a donations may be made to: Hospice of the Chesapeake, 90 Ritchie Highway, Pasadena, MD 21122 or the American Cancer Society, 7500 Greenway Center Drive, Suite 300, Greenbelt, MD 20770.
Sponsored for the In Memoriam Panel by Patrons, Kay and Bob Hunt. Sponsored for the In Memoriam Registry by NCMF friends and colleagues.