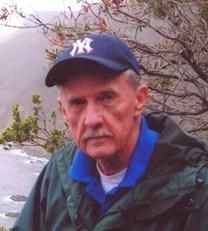 On October 29th, 2011, William G. Davis, 78 of West Friendship, MD, passed away peacefully after a long illness.
Beloved husband of the late Joan Marie Davis and devoted father of William G. Davis Jr. of Switzerland, FL, Brian Davis of Hiawassee, GA and Christopher Davis of West Friendship, MD. Grandfather of Joan Marie Davis of Switzerland, FL and Ashley Michelle Davis of Switzerland, FL.
He spent 6 years in the U.S. Army before going to work at NSA for 30 years, retiring as an analyst in P14 in 1988 with 36+ years of service. He then spent the next 18 years as a contractor. Bill devoted a total of 54 years federal service to his country.
In his spare time he enjoyed working in the yard building custom furniture with his youngest son Christopher. After his retirement he was known as a world traveler visiting every continent. He will be loved and missed forever in our hearts.
(From Witzke Funeral Home obituary)