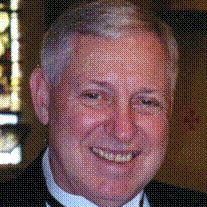 William "Bill" Talaber, Jr., age 73 of Eldersburg, died Tuesday, April 18, 2017. Born May 27, 1943 in Temple, TX, he was the son of the late William, Sr. and Esther May Talaber. He was the husband of 53 years of Lora Talaber.
Bill was a veteran of the U.S. Marine Corps and served from 1961 to 1966. He was employed with the Department of Defense (NSA) from 1966 to his retirement in 1998. During his 37 years of service he was a TCOMMer and Manager. After his retirement he stayed active working for several defense contractors from 1998 to 2016. He was a member of the Phoenix Society. Bill was always a dedicated member of the Baltimore Ostomy Support System, and a key figure in helping to revive the newly formed Greater Ostomy Association. In his free time he enjoyed traveling, tennis, golf (proud member of The Hazards golf group), and bowling. He had an avid interest in playing many card games such as Bridge, Pinochle, Poker, and Rummy which he played just a few days before his passing. His greatest passion and love was spending time with his family members and friends.
Surviving in addition to his wife are sons and daughters-in-law William, III "Billy" and Silke Talaber and Douglas and Jennifer Talaber; son-in-law Steven Naylor; brother and sister-in-law Charles and Kathy Talaber; grandchildren Ian Talaber, Sean Naylor, Karsten Talaber, Nicholas Naylor, Megan Talaber, Mason Talaber and Zachary Talaber; nieces and nephews Michelle Saich and her husband Mike, John Talaber and his wife Joanne, Tracy Kasunich and her husband Tommy, and Michael Talaber. He was also survived by several great nieces.
He was predeceased by his daughter Christine Naylor, grandson Bryan Joseph Naylor and brother John Talaber.
The family will receive friends on Thursday, April 27, 2017 from 2pm to 4pm and 6pm to 8pm at the Haight Funeral Home & Chapel, 6416 Sykesville Road in Sykesville. A mass of Christian burial will be held on Friday, April 28, 2017 at 9:30am at St. Joseph Catholic Community, 915 Liberty Road in Eldersburg. Interment to follow at Garrison Forest Veterans Cemetery in Owings Mills.
Those desiring may send donations to the Greater Baltimore Ostomy Association, 3410 Lord Baltimore Way, Monkton, MD 21111 (Checks payable to GBOA)
Sponsored for the NCF's In Memoriam Registry by the Hazards Golf Group.