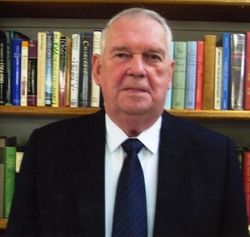 Whitney E. Reed of Bowie, MD, passed away on September 4, 2010. Whitney was born in Glens Falls, NY. He was an Eagle Boy Scout in his youth and graduated from Brockton High School in 1947. He completed BS and MA Degrees in Germanic Languages at Boston University in 1952, Masters of International Affairs at George Washington University in 1956, and an honorary Doctor of Strategic Intelligence Degree from the Defense Intelligence College. Whitney also completed advanced studies in Germanic Languages and Literature at the Goethe University in Frankfurt, Germany 1957-59, Free University Berlin 1966, and attended the National War College 1969-70.
Whitney worked for the National Security Agency from 1952 to 1993. He retired from NSA as the Commandant of the National Cryptologic School (1986 to 1993) and NSA/CSS Deputy Director for Education and Training. He was a lifelong champion of the foreign language community and a member of the Board of Directors and past Vice President and Treasurer and of the National Museum of Language. Whitney was a bibliophile, logophile, and oenologist.
Reed was the son of the late Edward and Elizabeth Reed of Brockton, Mass. and was preceded in death by his sister Sylvia of Brockton Mass. and wife of 26 years, Lilymae Reed. He was survived by his brothers Gordon and Wayne Reed both of Bridgewater, Mass, his loving wife of 30 years Frances Reed , his children by Lilymae Reed, Thomas Reed of Hanover, Pa., Melinda Formento and Jonathan Reed both of Cape May Court House, NJ.
Sponsored for the NCF's In Memoriam Registry by Anna Francis Reed, Gene Becker, Ed Jacobs, Ed Kirk, and Kay & Bob Hunt.