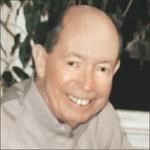 Wesley C. Baughman, of Chevy Chase, Maryland (originally from Hagerstown, Maryland), quietly passed away on June 22, 2021. He was 87 years young.
Out of high school, Wes proudly served in the US Army, stationed mainly in Europe. He continued to serve his country as a distinguished civil servant in a career spanning decades, much of it at the National Security Agency. During his tenure, Wes earned numerous awards and recognitions, including the Meritorious Civilian Service Award.
Wes is survived by his daughter, Cynthia (Daniel Kleinman) and grandsons, Tobias and Benjamin, as well as his brother, Brenton Baughman (Sandra) and nieces and nephews (Christine, Brent, Brian, Curtis, Keith, Barbie and Lori). Wes is preceded in death by his wife, Lois A. Baughman (2006). 
Please sign the family online guestbook at www.pumphreyfuneralhome.com
Sponsored for the In Memoriam Registry by Brenton Baughman.