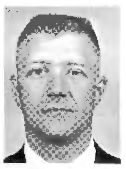 Thomas R. Dewey passed away December 19, 1968. Mr. Dewey worked as an electronics engineer with NSA. He received the President's Employee Adhievement Award in 1964.
Mr. Dewey, frequently cited by the Agency for his exceptional work, had been a civilian with NSA since 1955. Previous to that, the graduate of Michigan State University served for three years with the U.S. Air Force.
He was survived by his wife, Jane; four sons, a daughter, his parents, a sister and a brother.
*** To read a special article about Thomas Dewey, written by Len Posa for the NCMF's bulletin, "The Link," click on the link below and then scroll to Page 5 of "The Link" Winter 2003-2004 bulletin to read the article.