---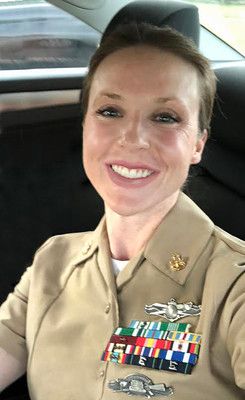 US Navy Senior Chief Cryptologic Technician Shannon M. Kent was honored on 28 Feb 2019 at a ceremony at the National Security Agency during which her name became the 177th on the Cryptologic Memorial Wall. Gen. Paul M. Nakasone, director of the National Security Agency/chief, Central Security Service, paid special tribute to Kent at the memorial wall service. "Senior Chief Kent, and all those honored on this wall, remind us of the seriousness of our mission…the defense of our Nation," said Nakasone. "Inscribed with the words, 'They Served in Silence,' this wall is a constant reminder of the ultimate price paid for our freedom by the 177 men and women of our Enterprise, whose courage, patriotism, and dedication to mission we memorialize here."  Read the full NSA Press Release.
Kent is one of only three women listed on the wall at NSA that honors military and civilian cryptologists who were killed in the line of duty since WWII - "serving in silence" and making the ultimate sacrifice. Kent was performing intelligence work as part of a larger effort to track ISIS remnants. Her death has brought more attention to the role played by women like her who support elite outfits.
Kent, an Arabic linguist with Fort Meade's Cryptologic Warfare Activity 66, was killed during a suicide bombing in the Syrian town of Manbij on 16 Jan 2019. Four Americans and more than a dozen others were killed during the attack.
Kent had applied to the Navy's psychology program, but did not meet medical standards due to a prior bout with thyroid cancer. However, she was deemed healthy enough to be deployed and was then killed in the line of duty. Prior to her death, Kent had submitted a request to establish a waiver process. Her death has prompted the Navy to initiate a process to appeal the DoD standards and get a second medical opinion. (Learn More)
Learn more via this Stars and Stripes article, as well as articles featured in our Cryptologic Bytes Archives.
Sponsored for the In Memoriam Registry by John S. Garcia.
Although the Cryptologic Memorial Wall is located in a secure area inside NSA, the National Cryptologic Museum (open to the public) features a replica. Learn more about the Cryptologic Memorial Wall and those honored on it.