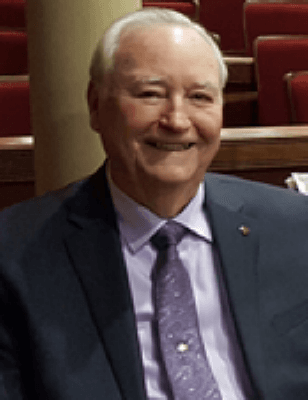 Samuel F. Chapman (age 89) of Columbia, Maryland, passed away while in the hospital on September 2, 2022.
Sam was born in Charleston, South Carolina on December 31, 1932 and reared in Crawfordville, Georgia. He was the eldest of four sons, born to the late Samuel W. Chapman (passed 1967) and Reba Louise (Morrow) Chapman (passed 2006).
Sam honorably served four years as a Radio Operator with the Air Force Security Service during the Korean conflict. He subsequently worked 34 years for the National Security Agency at Fort George G. Meade, Maryland and overseas postings, serving as a Radio Operator, Collection Officer, and Manager. He received the Meritorious Civilian Service Award for his contributions to the Agency's mission. He retired in late 1990. In addition to his work, Sam was a loving husband, father, and grandfather, and will be missed by all who knew him.
Sam and Juanita Marie Helsel (of Princeton, West Virginia) were united in holy matrimony on May 15, 1965. During their 57 years of marriage, they were blessed with two cherished children, Linda Marie (Chapman) Boies and John Michael Chapman (Janet), of Glenelg, Maryland. He was also blessed with 
one cherished granddaughter, Sarah Marie (Boies) Mattoon (Aaron) of Laurel, Maryland.
Sam was preceded in death by his brothers: Jackie D. Chapman in 1943; Franklin A. Chapman in 2015 (Diana) of Glendale, Arizona; and Russell W. Chapman in 2018 (Barbara) of Eatonton, Georgia.
Visitation hours will be held on Thursday, September 15, 2022 from 2:00 p.m. to 4:00 p.m. and again from 6:00 p.m. to 8:00 p.m. at the Donaldson Funeral Home, 1411 Annapolis Road, Odenton, Maryland 21113. The funeral service will be held at the funeral home on Friday, September 16, 2022 at 1:00 p.m. with interment to follow at Meadowridge Memorial Park in Elkridge, Maryland.
In lieu of flowers, the family requests donations to the Cyber Center for Education and Innovation (CCEI), the home of the new National Cryptologic Museum.
Condolences may be made on the tribute wall at tributearchive.com
Anyone who would like to submit memories about Mr. Chapman to be included here on his NCF page, can send those to webadmin@cryptologicfoundation.org.
Sponsored for the In Memoriam Registry by Patsy Pickrel, Staci Flanagan, Martin Sommerville, James Pauley, Jo Ann Sjulson, Carol Jean Zancan Jr., Juanita Chapman, Heather & Gordon Lesslar, Catherine Rose, and Bernice Weaver.