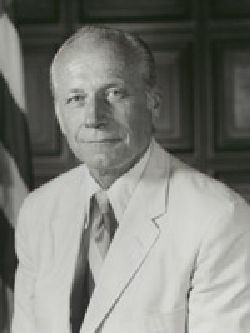 Robert E. Drake, 82, of Annapolis, MD, a former Deputy Director of the National Security Agency, died of congestive heart failure 12 January 2006 at his home. Mr. Drake was born October 11, 1923, in Northfield, Minn.
Following service as a B-24 "Liberator" bomber pilot in the Pacific during World War II, he graduated with honors from Carleton College in 1948, where he was also elected to Phi Beta Kappa. He subsequently received a Master's Degree in International Affairs from George washington University (1965), following graduation from the National War College the year before, an honor he deeply cherished.
He retired in 1980 as Deputy Director of the National Security Agency (1978-80, to VADM Bobby R. Inman, USN), its senior civilian post, after serving 31 years in a variety of analytical, administrative and policy positions, including tours of field duty in Europe and the Pacific. Along with colleague Milt Zaslow, Drake was instrumental in shaping COMINT/SIGINT reporting to the form it took in the latter half of the cold war years.
Always the gentleman, "Bob" is especially remembered for his inspiring leadership and sage guidance as office chief by those who labored on "the Southeast Asia" problem in the 1960s. One Saturday morning, he came in to see how "his people" were doing. He asked if there were anything he could do to help and received the facetious answer that he could help "run" some traffic. Rising to the task, Bob removed his coat, rolled up his sleeves, and spent the morning as a Vietnamese traffic analyst, working alongside juniors who were inspired by his presence, but obviously enjoying himself. Bob earned a reputation as one of the most effective managers in the history of the Agency and one whose style was especially low-key.
For exceptional government service in the cryptologic field, he earned the National Security Agency Meritorious and Exceptional Civilian Service Awards, the Department of Defense Distinguished Civilian Service Award, the Central Intelligence Agency Distinguished Service Medal, and the National Intelligence Distinguished Service Medal (awarded by the Director of Central Intelligence on behalf of the Intelligence Community). He was inducted into the NSA/CSS Cryptologic Hall of Honor in 2012. Learn more about his career and accomplishments via his Hall of Honor page on NSA.gov.
After retirement, he spent one year as a program manager with General Dynamics (Electronics Division) and served as part-time consultant on various projects for the National Security Agency, the Director of Central Intelligence and the Office of the Independent Counsel for Iran-Contra. He also served on the board of Directors of BAE Systems North America for 10 years.
In April, Mr. Drake's ashes were returned to Florida, for burial alongside those of his first wife of 56 years, Helen.
Sponsored for the In Memoriam Registry by the Hazards Golf Group.