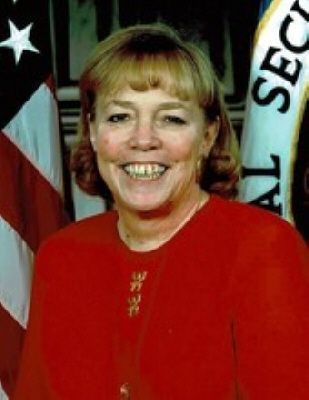 Lee Ellen Hanna, age 78, died peacefully at her home in Columbia, Maryland on January 13, 2021.
Born January 10, 1943, in Pittsburgh, Pennsylvania, to John A. and Roberta (Wealthall) Hanna, Lee grew up in Napoleon, Ohio, alongside her younger siblings, Gretchen and John. After graduating from Napoleon High School—where she'd later be named to the Distinguished Alumni Hall of Fame—Lee went on to study mathematics at The Ohio State University, earning her Bachelor of Arts in the subject in 1964.
Upon graduation, Lee joined the National Security Agency, where she rose through the ranks for the duration of her career. An alumna of the National War College, Lee became the first woman senior operations officer in the National SIGINT Operations Center before being promoted to the NSA's senior executive level, including serving as deputy director of human resources and leading some of the agency's most mission-critical organizations.
As part of her responsibilities, Lee briefed Presidents and addressed Congress, led several intelligence production organizations, chaired an NSA oversight panel on processes and management of the agency's personnel office, and worked closely with U.S. intelligence partners. As one of few women in leadership roles in the agency, she was a supportive mentor to women at varying points in their careers.
Lee's service was recognized with myriad honors, including the Presidential Rank Award- Senior Cryptologic Executive Service, Meritorious Executive, the second-highest annual award given to selected career Senior Executive Service members; the Distinguished Civilian Service Award, the Defense Department's highest recognition for civilian employees whose careers reflect exceptional devotion to duty and significant contributions to their fields; and the National Intelligence Distinguished Service Medal, given to individuals committed to the "betterment of national security in the U.S. through sustained and selfless service of the highest order."
After retiring from the NSA in 1997, Lee served on the National Cryptologic Museum Foundation's board of directors and as president of the Phoenix Society, a group comprising mostly NSA retirees. An avid croquet player, Lee was the United States Croquet Association's Mid-Atlantic regional vice president for more than 13 years and chaired the collegiate division for more than seven. As an advocate for the arts, Lee served for years as the general ticketing chair for the Columbia Arts Festival.
In her career and personal life, Lee traveled extensively, continually adding fascinating stories to her litany of life experiences. Her knowledge and generosity knew no bounds: Lee was as quick to share an obscure nugget of trivia as she was to share her good fortune—ideally over a good meal and fine bottle of wine (or a glass of her coveted secret-recipe eggnog). Her devotion to her family and friends, near and far, was as immediately obvious as her distinct signature, always accompanied by the same signoff: "Lots of love."
Lee is survived by her siblings, Gretchen Downs and John (Lois) Hanna; nieces and nephews, Tiffany Hanna (Cheryl Kempf), Joshua (Justine) Hanna, Rebecca Downs Beebe, Megan (Hawken) Flanagan, Abigail (Bret) Kravitz, Zachary (Michelle) Hanna, Nicholas (Katie) Hanna and Emily (Patrick) Mayock; and 20 grand-nieces and -nephews. She was preceded in death by her parents, John and Roberta Hanna; brother-in-law, Thomas Downs; and nephew, John Hanna.
A memorial service will be held once regulations on gatherings have subsided. In lieu of flowers donations in Ms. Hanna's name can be directed to National Cryptologic Museum Foundation, P.O. Box 1682, Ft. George G. Meade, MD 20755-9998, cryptologicfoundation.org or National Museum of Women in the Arts, 1250 New York Avenue, Washington, DC 20005 or nmwa.org.
Sponsored for the In Memoriam Registry by Directors, Officers, and Staff of the National Cryptologic Museum Foundation. Also sponsored by Robert Rosenwald, Janet Kravitz, Francine Forney, John Fielding, Sally Botsai, Bill Stevenson, Karen Hitcho, Robert Mueller, Emily Mayock, Penelope Horgan, and Joan Ruhl.