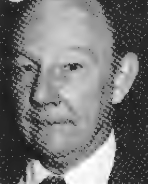 George Leoni Chesnut, Jr., died April 20, 2007 in Arlington, Virginia after a very brief illness. Mr. Chesnut was 89. George Chesnut was an accomplished linguist, translator, a devout student of Biblical Greek, a lifetime employee of the NationalSecurity Agency and a devoted husband and father. Over a lifetime of work, George translated more than 50 languages, ranging from ancient texts to modern.
Mr. Chesnut was born July 27, 1917 in Texas. He grew up in Dallas and attended the University of Texas. George, at age 19, was awarded a master's degree in Spanish and German. George graduated Phi Beta Kappa after preparing a dissertation on the 20th century Spanish philosopher Jose Ortega y Gasset.
Mr. Chesnut pursued graduate studies in linguistics at the University of Chicago, with advanced studies at the University of Michigan. The outbreak of hostilities in Europe interrupted Mr. Chesnut's studies. Prior to America's involvement in the conflict, Mr. Chesnut took a position with the Foreign Broadcast Information Service. Mr. Chesnut monitored German radio transmissions to South America in Portuguese and Spanish for FBIS. After America's entry into World War II, Mr. Chesnut served as an officer for US Naval Intelligence, putting his training and skills as a linguist to Allied service.
In the years following the war, Mr. Chesnut was employed at the National Security Agency and taught courses in Spanish at George Washington University. Mr. Chesnut was recalled to the US Navy at the outbreak of the Korean conflict and served in Okinawa, Formosa and Washington, DC in his specialty.
After Korea, Mr. Chesnut returned to the NSA and worked there until retirement. For many years, his role was as a civilian director of the NSA's Analytic section. Following his retirement, Mr. Chesnut continued to work as a translator, linguist and consultant. His diverse projects included a Serbian dictionary, an Afghani Pashto dictionary, a French moviescript, and Biblical texts in Dinka, the language of the southern Sudan.
Mr. Chesnut returned to teaching in his later years. He conducted a seminar class in Biblical Greek for churches in Northern Virginia. George Chesnut served on the Episcopal Diocese of Virginia's Environmental Stewardship committee reflecting his deep belief in man's need to serve as a good steward of the earth, God's creation.
George Chesnut was the only child of George Leoni Chesnut, Sr. and Mabel Anne Giddings Chesnut. George Chesnut married Louise Garrison Woolfolk on January 19, 1952 in Washington, DC.
Mr. Chesnut is survived by Louise, his wife of 55 years, two children, Anne Giddings Chesnut of Charlottesville, VA, and John Winston Chesnut and his wife, Judy Neuhauser of Los Osos, CA. George Chesnut has two grandchildren, William Orion Chesnut, and Andrew Giles Cabe.
A memorial service will be held 4 p.m. Thursday, April 26, 2007 at St. Mary's Episcopal Church, 2609 N. Glebe Road, Arlington, VA. Contributions in George Chesnut's memory should be made to the Southern Environmental Law Center, 201 Main Street, Suite 14, Charlottesville, Virginia 22902.
Published by The Washington Post on Apr. 24, 2007. Link to obituary and visitor comments.
Sponsored for the In Memoriam Registry by Wayne Stoffel.