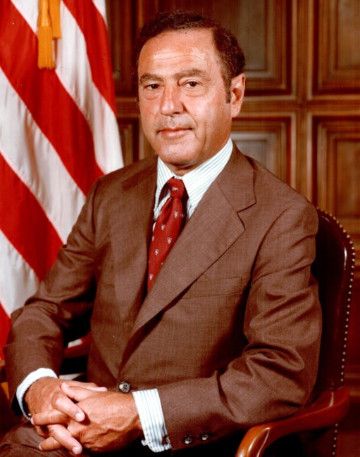 Mr. Eugene (Gene) Joshua Becker, former President of the NCMF, passed away 9 June 2018 in the hospital where he was being treated for a mild heart attack and pneumonia. Gene would have been 91 on the 26th of August. Following his retirement from NSA, Gene was recruited to work at the Foundation by General Morrison, and was instrumental in guiding the Foundation, along with Bob Rich, Ann Caracristi, Bill Kvetkas, Jim Boone, and others, through its early years. He was appointed Vice President following the retirement of Bob Rich and became President in 2006. Although Gene retired in September 2014, he continued to visit the office and remain in touch with the staff, attend programs and keep abreast of new museum developments.  He was a dear friend and mentor to many and always had a kind word for everyone. He will be missed. 
Update: Please CLICK HERE to learn about the Eugene J. Becker Award for Excellence in Cybersecurity and Cryptology that the Foundation established in October 2018 as a result of donations made in Gene's name by his family and friends.
*** Please see the full obituary located below, as well as a gallery of photos. ***
In lieu of flowers, Gene's wishes and those of his family are for donations to be made to the NCMF. Donations can be mailed into the office or made via our online donation form. Please fill in the Tribute section - indicating Gene's name. If mailing in your donation - remember to note that the donation is in honor of Gene. Anyone making a donation in Gene's name will be listed as a sponsor in his In Memoriam Registry directory on our website. Click HERE to make a donation.
You can leave an online condolence for Gene's family via the Dignity Memorial website.
You may send condolences to his wife and family at:
Mrs. Anna Becker
3805 Chatham Road
Ellicott City, MD 21042
Funeral and burial services were private. A celebration of his life was held on June 13th at the Timbuktu Restaurant in Hanover, MD where Gene held quarterly luncheons for the OTH Gang.
Sponsored for the In Memoriam Registry by Rene Stein, Christine and Daryl Brown, Jane Cockrell, Marjorie and Clive Pinsker, Kirsten Eland, William F. Stevenson, Bill Saadi, William Kvetkas, George & Wendy Cotter, Ellen Shaver, and Craig Wiley.
---
Photo Gallery - Please Click on the Images for an Enlarged View
Obituary for Eugene "Gene" Joshua Becker
Mr. Becker was born and raised in New York City. He joined the Army after high school, received a Bachelor of Arts Degree in International Studies from George Washington University 1951, and a Masters in Arabic Studies from Harvard in 1957.
In 1952, Mr. Becker began his distinguished career in intelligence as a linguist at the Armed Forces Security Agency, NSA's predecessor organization. In 41 years at NSA he held many senior roles including Assistant Deputy Director for Field Management and Evaluation, Training Director and Commandant of the National Cryptologic School, NSA Representative to the Defense Department, Assistant Director for Telecommunications and Computer Services, Inspector General and Deputy Director for Administration from which he retired in 1993. Mr. Becker then joined the National Cryptologic Museum as Vice President and helped establish the Museum Foundation in 1996 with a team of retired NSA employees to support the museum's mission. Over 16 years he served the Foundation in various roles retiring as President in 2012.
He received the Exceptional Civilian Service Award. In 1982 he joined the ranks of the Senior Cryptologic Executive Service (SCES) and was later awarded the rank of Distinguished Executive in the SCES. In 1990, he received the National Intelligence Distinguished Service Medal.
Survivors include his loving wife, Anna Becker, daughters Carol (Bob), Nancy (Joe), and Kathy. Mr. Becker is also survived by six grandchildren, Jonathan (Jessica), Michael (Carolyn), Tara (Greg), Kevin, Bridget and Joseph, and great-grandchildren Brett, Chase and Camden.