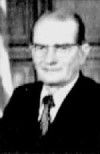 Albert Dale Braeuninger, 81, husband of Kathleen E. Braeuninger, passed away Tuesday evening, Aug. 5, 2008, at a Caribou nursing facility, after a brief illness. He was born Aug. 29, 1926, in Philadelphia, the son of Albert William and Mary Dale (Hackett) Braeuninger. He was a graduate of the Upper Darby, Pa., school systems and attended Franklin and Marshall University, Lancaster, Pa.
Albert went on to serve his country during World War II in the U.S. Navy from July 1, 1944 to Sept. 4, 1952, and served in U.S. Navy Reserves from 1952 to 1984. He served with the National Security Agency under the Department of Defense, where he served as a senior executive until his retirement in 1984 (37+ years) and was stationed in Germany and England.
Albert was married to Kathleen E. Armstrong June 7, 1950. The couple resided in Silver Springs, Montgomery County, Md., from 1952 to 1984, where Albert was a member of the Transfiguration Episcopal Church, Colesville, Md. He and Kathleen moved to Belfast in 1984, where Albert was a member of the American Legion, an active member of Belfast Curling Club, chairman of Belfast Airport Committee, was in charge of Belfast High School Band Fundraising Committee and a member of St. Margaret Episcopal Church, Belfast. Albert was also a Phoenix Society life member, a dedicated volunteer at Seashore Trolley Museum, Kennebunkport, and was a member of Lion's Club International, both in Belfast and Maryland. Albert and Kathleen moved to Salisbury, Md., in 2003 and have been residents of Fort Fairfield since 2007.
Mr. Braeuninger was predeceased by his parents. He is survived by his wife of 58 years, Mrs. Kathleen E. Braeuninger of Fort Fairfield; one son, Robert Braeuninger and his wife, Amy, of Salisbury, Md.; one daughter, Kathy Braeuninger and her husband, Dean Hunter, of Fort Fairfield; one sister, Mary Beatty of Scottsdale, Ariz.; four grandchildren, Virginia Magee of Columbia, Md., Vaughn Braeuninger of Carson City, Nev., Amanda Braeuninger of Middletown, Md., and Jesse Braeuninger of Salisbury, Md.; and two great-grandchildren, Brandon and Nathan Braeuninger of Carson City, Nev.
The above excerpts are from an obituary published in the Bangor Daily News on 8/7/2008
Sponsored for both the In Memoriam Panel and the In Memoriam Registry by Kathleen Braeuninger.