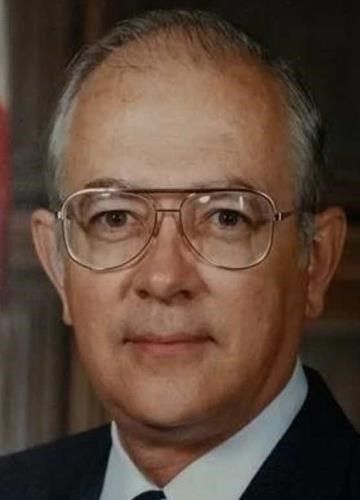 Born in Homer LA, Charles Gandy earned his first FCC radio license at age 9. Fascinated with electronics, he worked his way through college as Chief Engineer of commercial station KRUS. He graduated from Louisiana Tech and ROTC in 1955.
From his first Air Force assignment, to the National Security Agency in 1955, until retirement as a Senior Cryptologic Executive, Charles made significant contributions to US Signals Intelligence. His work in the field of remote collection systems was applied during the Viet Nam War where it helped save the lives of thousands of Americans.
De-classified from the 1980's, Charles' leadership on the GUNMAN project is documented in "The Spy in Moscow Station." He uncovered KGB electronic spyware that compromised Embassy security for eight years. His distinguished service to our country was acknowledged by induction into the 2008 National Security Cryptologic Hall of Honor for his work in SigInt, Information Assurance, and Counterintelligence. He was awarded five medals for Exceptional Civilian Service from NSA, CIA, and the USAF.
After leaving NSA, Charles continued engineering research activities as a civilian. He developed a special radar that detected breathing and heart rate for people trapped in rubble of collapsed buildings and mines. For all of his achievements, he was named an outstanding alum by the College of Engineering and Science at his alma mater. Curiosity and technical intellect remained strong throughout his long life.
Sailing was a wonderful hobby that mentally and physically engaged Charles and his wife Freda. He was befriended by many "dock rats" through his adventures on the Chesapeake, FL Keys, and in the Bahamas.
He is predeceased by this wife of 63y, Freda Grambling Gandy and his daughter, Elizabeth Gandy Wegner. Charles is survived by his son, Charles Gandy, Jr. (Kathy) and their sons, Mark (Cristin), David (Michele), Phil (Katherine), and Jon. He is also survived by Beth's husband Kent Wegner and their children, Erin Wegner Brooks (Duncan) and Ryan Wegner (Sona) and 12 great- or great-great grandchildren. Inurnment will be at Arlington National Cemetery.
Sponsored for the In Memoriam Registry by Penny Horgan.