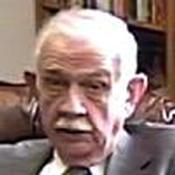 Cecil Clay Corry, Jr., age 89, passed away on the morning of July 20, 2011 at Arlington Hospital after severe pulmonary fibrosis complicated by pneumonia, from which he had suffered for several years. Cecil''s experiences in WWII are captured in his own words for the Library of Congress by interview that is found on the internet as part of the Veterans History Project.
Cecil dedicated his professional life to the field of communications security maintaining the secrecy of our nation''s defense and intelligence communications. As someone there ''at beginning'' of NSA''s history, he was colleagues with the most famous codebreakers and computer scientists in American history, much of whose work remained secret until only recently. He was already Section Chief for Communications Security (COMSEC) when he attended the National War College in 1960. He was also selected to be among the first graduates of the Federal Executive Institute, a school for the ''supergrades'' of the Civil Service. After serving as Director, Foreign Relations, he served as Senior United State Liaison Officer in the US Embassy to the Court of St. James, living in London with his family from 1970-1972. He returned to Arlington, working at NSA headquarters at Ft. Meade, MD where he worked until retirement in 1982 as Assistant Deputy Director for COMSEC, receiving the Defense Department''s highest civilian awards.
Cecil was born in Union Point on Dec 5, 1921 to Lena Marable Corry and Cecil Clay Corry Senior. He attended elementary school in Union Point, Union Point High School and then went off to North Georgia College at age 15, where he very much enjoyed his introduction to military discipline and made many lasting friendships. He entered the University of Georgia in 1939 and graduated in 1942 while enjoying the Bulldogs'' National Championship as a classmate of Frank Sinkwich. Shortly after graduation he was inducted into the US Army at Ft. McPherson and was selected for the Signal Corps and sent to Ft. Monmouth, New Jersey.
There Cecil was trained in the then-new fields of codes and signals security and became an instructor in the 803rd Signals Training Regiment at the Signals School at Vint Hill Farms, Virginia until he weighed enough to enter Officer Candidate School (OCS). After graduation from OCS in 1944 he spent the rest of WWII as a signals analyst under MacArthur''s command in the Pacific, working with codebreakers and maintaining signals security of signals from outlying observation posts and other topsecret radio communications. He served in Australia, New Guinea, and the Philippines, and at the end of the war traveled in Japan, Korea, then-Formosa and even mainland China as work began gathering intelligence on the Chinese Communist movement. In 1946 he left active duty as a Captain (he would retire from the Reserves as Lt. Colonel), and joined the Army Security Agency, working at Arlington Hall Station, where his sister Virginia also worked during WWII and where he met his future wife Eloise Lupton. During the early postwar years one of his assignments was communications security for the atomic tests at Bikini and Eniwetok atolls. He continued into the Armed Forces Security Agency and its successor National Security Agency (NSA) after it was created by Presidential Executive Order in 1952.
After the war, he settled in Arlington, Virginia and became an active member of Clarendon United Methodist Church, which he would remain for over 60 years. Cecil and Eloise were married there on July 17, 1954 and honeymooned in Havana, Cuba before settling back into Arlington for the rest of their lives. Both were very active in the Church and community, volunteering for many organizations while raising three children, Clay III b. 1955, Carolyn b.1959, and Charles, b. 1961. Clay attended Washington and Lee University, Charles graduated from Harvard University, and Cecil was particularly proud when Carolyn graduated from the University of Georgia with honors in 1981.
Cecil and Eloise were particularly active in the Georgia State Society, a social organization of Georgians who work and live in the Washington DC area, including Senators, Congressmen and their staffs, business professionals and even President Jimmy Carter! Both Cecil and Eloise served as President of the Society for many years, and eventually as Directors of the National Conference of State Societies (all 50 states), responsible for the annual Cherry Blossom Festival and Parade in Washington, D.C. Carolyn served as the Georgia Princess for the Festival one year. After retirement Cecil became the Executive Director of the National Cherry Blossom Festival for several years, and even traveled to Japan as a guest of the Japanese Government for the Festival activities there. Cecil always enjoyed the annual Corry Family Reunions, often here in Greene County, and was an active participant in the Corry Family Genealogical Society.
After retirement he continued to serve as a Director of the Government Employees'' Benefit Association, as a Director of the Association of Former Intelligence Officers, and was an active member of the Military Order of the Carabao (for military veterans who served in the Philippines). He dedicated much of his retired life as treasurer and trustee of Clarendon United Methodist Church, where he leaves many friends and others whose lives he touched from his 60 years of membership and service. He worked there daily in his office managing the financial affairs of the Church even on the day he entered the hospital, as he expected to come back and get back to work.
Excerpted from the obituary provided by McCommons Funeral Home.
Sponsored for the In Memoriam Registry by Mr. Gene Becker & Susan D. Hoover.