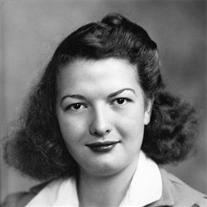 Betty Mavis Loeffler Fletcher, 90, passed away at Homestead Assisted Living Center on February 7, 2016 after a brief illness.
The daughter of George W. and Callie Bellows Loeffler, she was born on a sheep ranch near Stockton, Kansas on October 28,1925. She attended a one-room country school where she was the only student in her grade, an experience which determined her life-long habits of learning. After graduating from Stockton High School, she attended the University of Kansas where she majored in German language and linguistics and was elected to Phi Beta Kappa. She did her graduate work at Ohio State University where she met and married James Austin Fletcher on Dec. 18, 1948 at the St. James Episcopal Church in Columbus, Ohio. They were both recruited by the Department of Defense and moved to the Washington, D.C. area where they worked for almost 30 years for the National Security Agency. After her retirement, IN 1979, she went to the local community college and received an associate degree in computer science. She worked as an applications programmer for the University of Maryland for several years.
Mrs. Fletcher also worked as a reporter for a weekly newspaper where, among other reporting, she wrote the police blotter. When she and James finally retired, they moved to the coastal town of Beaufort, SC, where they lived until his death in 2000, after almost 52 years of devoted marriage. Mavis then moved to Manhattan to be near her sisters, Mildred Loeffler and Lois Fink, a long time resident of Manhattan. Mrs. Fletcher was an active member of the American Association of University Women, maintaining her membership both in Beaufort and Manhattan. She served as president and secretary of the Friends of Beaufort Community Library and served on the board of the Manhattan Library Association, and the Friends of the Manhattan Library. Books and bridge, and a love of gardening and the outdoors were defining features of her life.
Mrs. Fletcher was preceded in death by her husband, sisters, a niece, Rebecca Dearborn and her beloved cat Sweet Face. She is survived by her late husband's cousin Anne Austin Jennings of Scottsdale AZ; two nieces Sherry Denton, (Jeff) Salina, Jan Converse, (Curtis) Colorado Springs, CO, seven grandnieces, three great grandnieces, six great grandnephews, as well as many friends and bridge partners.
Sponsored for the In Memoriam Registry by Jo Ann Wittman.