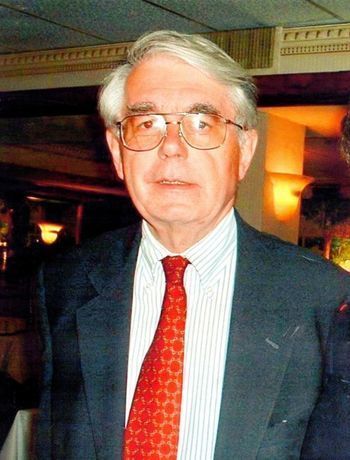 Barrie Gordon Sims, 78, of Columbia, Maryland, died of Covid-19 on Friday, November 27, 2020 at Gilchrist Hospice in Towson, Maryland. Barrie was born in Gloucester, England, on May 16, 1942, to Gordon and Lillian Sims. He grew up with his sisters Julie and Heather and attended local Gloucester schools. After graduating, he began working for GCHQ, Britain's intelligence agency, as a computer scientist. While working, he achieved a Bachelor of Science degree in Math.
Barrie's family was his source of pride and joy. He married Patricia Murrin of Gloucester in 1963 and their marriage was blessed with three children, Colin, Philip, and Jennifer. The marriage ended in divorce. In 1986, he married Tracey Taaffe Manning of Columbia.
In 1983, Barrie moved to Columbia, Maryland, to coordinate intelligence work with his American counterparts. Later he worked as a program director for Computer Sciences Corporation and subsequently, Eagle Alliance, both in service to the National Security Agency. He always took satisfaction in his contribution toward making the world safer for his two beloved countries.
Barrie's faith was important to him and he was very committed to his Baptist churches, both in Gloucester and in Columbia. He helped to shepherd Brunswick Baptist Church in Gloucester through growth and the building of a new facility as its treasurer. He later served as treasurer for over 20 years to the Columbia Baptist Fellowship (CBF). For many years, he represented CBF on the Oakland Mills Interfaith Center (OMI) board of directors. While he was president of the OMI Board, his vision and collaboration skills helped him oversee a major building expansion and renovation.
Barrie and Tracey loved traveling with family and friends. They visited all seven continents by land and by sea. When he was home in Columbia and Gloucester, Barrie enjoyed his hobbies of stamp collecting and reading about British history and railroads. He valiantly battled Parkinson's disease for 19 years, refusing to let it limit his enjoyment of life.
He is survived by his wife Tracey Manning Sims, his three children, Colin Sims (Annette Beattie), Philip Sims (Michelle Sullivan), and Jennifer Sims (Graham Wollington), his two stepchildren, Laura Manning Attridge (Andrew Attridge) and Elizabeth Manning, and his grandchildren, Matthew Sims, George Sims, Margaret Attridge, and Sean Attridge. He is also survived by his sisters Julie Briffett (Gerald Briffett), Heather Harvey (Robert Harvey), and numerous nieces, nephews, great nieces, and great nephews. He was predeceased by his parents, Gordon and Lillian Sims.
Due to Covid restrictions, there will be no in-person service. A virtual memorial service is scheduled for Saturday, December 12th at 2pm. For information on attending online - please email webadmin@cryptologicfoundation.org for contact info.
Donations may be made in Barrie's memory to Columbia Baptist Fellowship, 5885 Robert Oliver Place, Columbia, MD 21045 or to the Michael J. Fox Foundation, P.O. Box 5014, Hagerstown, MD 21741-5014.
Barrie has been sponsored for this NCMF In Memoriam Registry by Mary J. Faletto and Colleagues of the National Cryptologic Museum Foundation. Barrie was a member of the NCMF's Executive Committee for several years. He will be missed.
Sponsored for the NCF's In Memoriam Registry by his wife, Tracey Manning, as well as Mary J. Faletto, Orville C. Lewis, Sally Botsai, and additional colleagues of the National Cryptologic Foundation.