"On This Date in History" Calendar
1968: USS Liberty was decommissioned.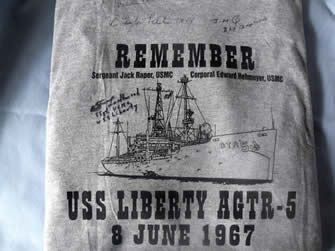 28 June 1968: The USS Liberty was decommissioned. The ship was eventually sold for scrap in December 1970. For more information about the USS Liberty, please visit the Cryptologic Dates Calendar for 8 June. You may also be interested in Jay Cristol's book, "The Liberty Incident."
The USS Liberty was given the Presidential Unit Citation and Commander McGonagle was awarded the Medal of Honor for saving his severely damaged ship. He remained on the bridge for 17 hours despite his serious wounds and he guided his ship to safety until help arrived. He was promoted to the rank of Captain in October 1967 and went on to command the new ammunition ship USS Kilauea. He led the NROTC Unit at the University of Oklahoma for several years and retired from the Navy in 1974.
Visit related links below, including a full collection of declassified resources on the NSA website.