"On This Date in History" Calendar
1999: Lt Gen Michael Hayden, USAF, became DIRNSA.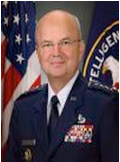 Lieutenant General Michael V. Hayden, USAF, served as the Director, National Security Agency/Chief, Central Security Service (NSA/CSS), Fort George G. Meade, MD, from March 1999 to April 2005. As the Director of NSA and Chief of CSS, he was responsible for a combat support agency of the Department of Defense with military and civilian personnel stationed worldwide.