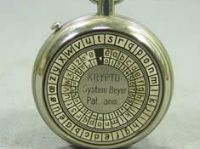 Explore a vast collection of items of interest to those curious about the past, present, and also the future of cryptology.
---
What happened today in cryptologic or related history? Here you will find interesting "On This Date" entries related to cryptology, computers, math, military history, and more. One source of entries is the NSA Center for Cryptologic History's (CCH) Cryptologic History Calendar. For many of the CCH calendar items, we have added photos, additional text, and web links.

A selection of significant articles, stories, and websites for those who enjoy cryptology.

A selection of recent articles, news stories, blog posts, and more with a focus on cryptology. Also included here are a few timeless items we like to keep handy.

A full listing of cryptologic bytes articles - grouped by categories such as News Articles, Codes-Ciphers-Computers, People, Books- Publications-Films, Museum Info, and History. Here you can explore a vast collection of cryptology-related items. Content in this section is obtained from various sources, including website visitors, so if you have something to share, please email webadmin@cryptologicfoundation.org.

Like a good mystery? Here we periodically post cryptanalytic challenges, including "tools" of the trade. Visitors are invited to provide any solutions to the challenges or information on how a tool was used by cryptographers.