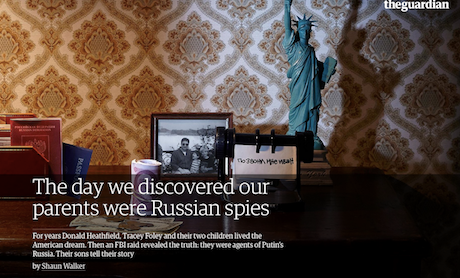 The day we discovered our parents were Russian spies.
For years Donald Heathfield, Tracey Foley and their two children lived the American dream. Then an FBI raid revealed the truth: they were agents of Putin's Russia. Their sons tell their story
by Shaun Walker for The Guardian
published Saturday 7 May 2016
EXCERPT to follow. For the full article - please see The Guardian online.
Tim Foley turned 20 on 27 June 2010. To celebrate, his parents took him and his younger brother Alex out for lunch at an Indian restaurant not far from their home in Cambridge, Massachusetts. Both brothers were born in Canada, but for the past decade the family had lived in the US. The boys' father, Donald Heathfield, had studied in Paris and at Harvard, and now had a senior role at a consultancy firm based in Boston. Their mother, Tracey Foley, had spent many years focused on raising her children, before taking a job as a real estate agent. To those who knew them, they seemed a very ordinary American family, albeit with Canadian roots and a penchant for foreign travel. Both brothers were fascinated by Asia, a favoured holiday destination, and the parents encouraged their sons to be inquisitive about the world: Alex was only 16, but had just returned from a six-month student exchange in Singapore.
After a buffet lunch, the four returned home and opened a bottle of champagne to toast Tim reaching his third decade. The brothers were tired; they had thrown a small house party the night before to mark Alex's return from Singapore, and Tim planned to go out later. After the champagne, he went upstairs to message his friends about the evening's plans. There came a knock at the door, and Tim's mother called up that his friends must have come early, as a surprise.
At the door, she was met by a different kind of surprise altogether: a team of armed, black-clad men holding a battering ram. They streamed into the house, screaming, "FBI!" Another team entered from the back; men dashed up the stairs, shouting at everyone to put their hands in the air. Upstairs, Tim had heard the knock and the shouting, and his first thought was that the police could be after him for underage drinking: nobody at the party the night before had been 21, and Boston police took alcohol regulations seriously.
When he emerged on to the landing, it became clear the FBI was here for something far more serious. The two brothers watched, stunned, as their parents were put in handcuffs and driven away in separate black cars. Tim and Alex were left behind with a number of agents, who said they needed to begin a 24-hour forensic search of the home; they had prepared a hotel room for the brothers. One of the men told them their parents had been arrested on suspicion of being "unlawful agents of a foreign government".
Alex presumed there had been some mistake – the wrong house, or a mix-up over his father's consultancy work. Donald travelled frequently for his job; perhaps this had been confused with espionage. At worst, perhaps he had been tricked by an international client. Even when the brothers heard on the radio a few days later that 10 Russian spies had been rounded up across the US, in an FBI operation dubbed Ghost Stories, they remained sure there had been a terrible mistake.
But the FBI had not made a mistake, and the truth was so outlandish, it defied comprehension. Not only were their parents indeed Russian spies, they were Russians. The man and woman the boys knew as Mom and Dad really were their parents, but their names were not Donald Heathfield and Tracey Foley. Those were Canadians who had died long ago, as children; their identities had been stolen and adopted by the boys' parents.
Their real names were Andrei Bezrukov and Elena Vavilova. They were both born in the Soviet Union, had undergone training in the KGB and been dispatched abroad as part of a Soviet programme of deep-cover secret agents, known in Russia as the "illegals". After a slow-burning career building up an ordinary North American background, the pair were now active agents for the SVR, the foreign spy agency of modern Russia and a successor to the KGB. They, along with eight other agents, had been betrayed by a Russian spy who had defected to the Americans.
The FBI indictment detailing their misdeeds was a catalogue of espionage cliches: dead drops, brush-pasts, coded messages and plastic bags stuffed with crisp dollar bills. The footage of a plane carrying the 10 touching down at Vienna airport, to be swapped for four Russians who had been held in Russian prisons on charges of spying for the west, brought back memories of the cold war. The media had a field day with the Bond-girl looks of 28-year-old Anna Chapman, one of two Russians arrested not to have pretended to be of western origin; she worked as an international estate agent in Manhattan. Russia didn't know whether to be embarrassed or emboldened: its agents had been busted, but what other country would think of mounting such a complex, slow-drip espionage operation in the first place?
For Alex and Tim, the geopolitics behind the spy swap was the least of their worries. The pair had grown up as ordinary Canadians, and now discovered they were the children of Russian spies. Ahead of them was a long flight to Moscow, and an even longer emotional and psychological journey......
READ MORE OF THIS STORY VIA THE GUARDIAN ONLINE
Return to our HOME PAGE
Visit the Cryptologic Bytes Archives via the "Return to List" link below.