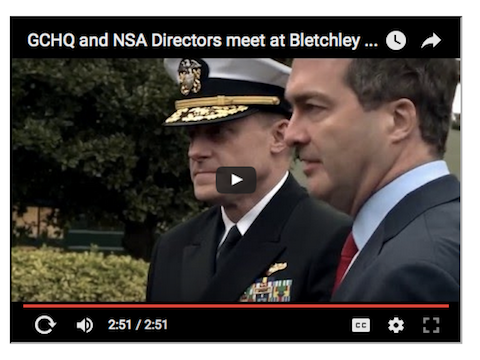 Please CLICK HERE to view the three-minute video clip from the visit via YouTube
GCHQ and NSA Directors meet at Bletchley Park
Feb 9, 2016
From www.bletchleypark.org.uk
No sherry or cigarettes this time
The Directors of the US and UK's signals intelligence services have met at Bletchley Park to mark the 75th anniversary of the meeting which began the Special Relationship, in the very room where it took place.
Admiral Michael S Rogers, Director of the NSA, joined GCHQ Director Robert Hannigan to tell the story of how a late night sharing of secrets over sherry began the Special Relationship which remains crucial to both nations today.
On 8 February 1941, months before entering the war, four US signals intelligence officials were delayed, diverted and even shot at as they travelled to the Buckinghamshire countryside.
They eventually arrived late in the evening and were treated to sherry in the office of the Head of the Government Code and Cypher School, Alastair Denniston, before each side shared their codebreaking achievements against Germany and Japan's secret communications systems.
Admiral Rogers said "I would encourage people to come here, because Bletchley Park represents an entwined history between our two nations and it shows what our nations can do when they come together."
Robert Hannigan added "Standing in this room is a reminder that it all comes back to people in the end; brilliant, dedicated people working together, taking risks, as we have between us. That partnership can do fantastic things against threats today, as it did 75 years ago."
The two directors were given a tour by the Chairman of the Bletchley Park Trust, Sir John Scarlett, and CEO Iain Standen. Sir John said "As you go into the room, which has now been restored, you have a strong sense of what it must have been like on that evening 75 years ago."
Iain Standen added "They were, like any visitors, in awe of the place. When they stood watching the introductory film and it says 'it happened here' they got the hairs on the back of the neck feeling like everybody else does. Standing in Alastair Denniston's office where this important event took place, again, they were moved."
During the celebrations, Bletchley Park also received a visit from NSA Historian, Dr. David A Hatch, and GCHQ Historian, Tony Comer. They discussed the importance of the UK-USA Special Relationship.
Dr. Hatch said, "It was unprecedented. Two countries opening up and sharing secrets with each other. That meeting was the seed for this relationship which has helped keep both sides safe. It had a profound effect on the war and on the peace afterwards."
The celebratory event is also covered, and the color photographs reproduced along with a copy of a post-war congratulatory letter from General Eisenhower to MI-6 Chief Stewart Menzies [1939-52], in Issue #6 of the Bletchley Park Magazine, a copy of which can be viewed at the NCM library.
Learn more via the Bletchley Park website.
Return to our HOME PAGE
Visit our Cryptologic Bytes Archives for more articles via the "Return to List" link below