Honoring CMSgt Al Gray, USAF, (Ret) as an NCMF Benefactor - Spring 2019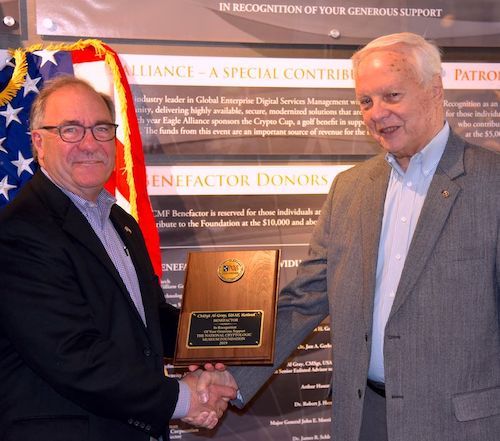 The President of the Executive Committee of the National Cryptologic Museum Foundation (NCMF), Dick Schaeffer, recently presented CMSgt Al Gray, USAF (Ret) with a plaque honoring him as an NCMF Benefactor - in recognition of CMSgt Gray's support and contributions toward the planned new National Cryptologic Museum.
CMSgt Gray served in the U.S. Air Force Security Service from March 1954 to December 1975, completing six overseas tours during that time. In 1973, he was appointed by the Director, NSA to establish the Office of the Senior Enlisted Adviser to the Director, following which he created the first NSA Senior NCO Advisory Council to assist in this process.
Pursuing his considerable interest in cryptology, CMSgt Gray followed his military career by serving in various civilian positions at NSA and field assignments until his retirement in August 2007.
CMSgt Gray has worked for the Executive Committee of the NCMF for the past seven-plus years, seeking to inform and interest military friends and colleagues about the need for and the importance of preserving & commemorating the heritage they all have contributed with their accomplishments. Planned displays for the soon-to-be constructed new National Cryptologic Museum will include declassified displays which reflect Service military efforts all around the world.
Many thanks to CMSgt Gray for his continued & valued support!
Click HERE to learn more about NCMF Benefactors & Patrons.