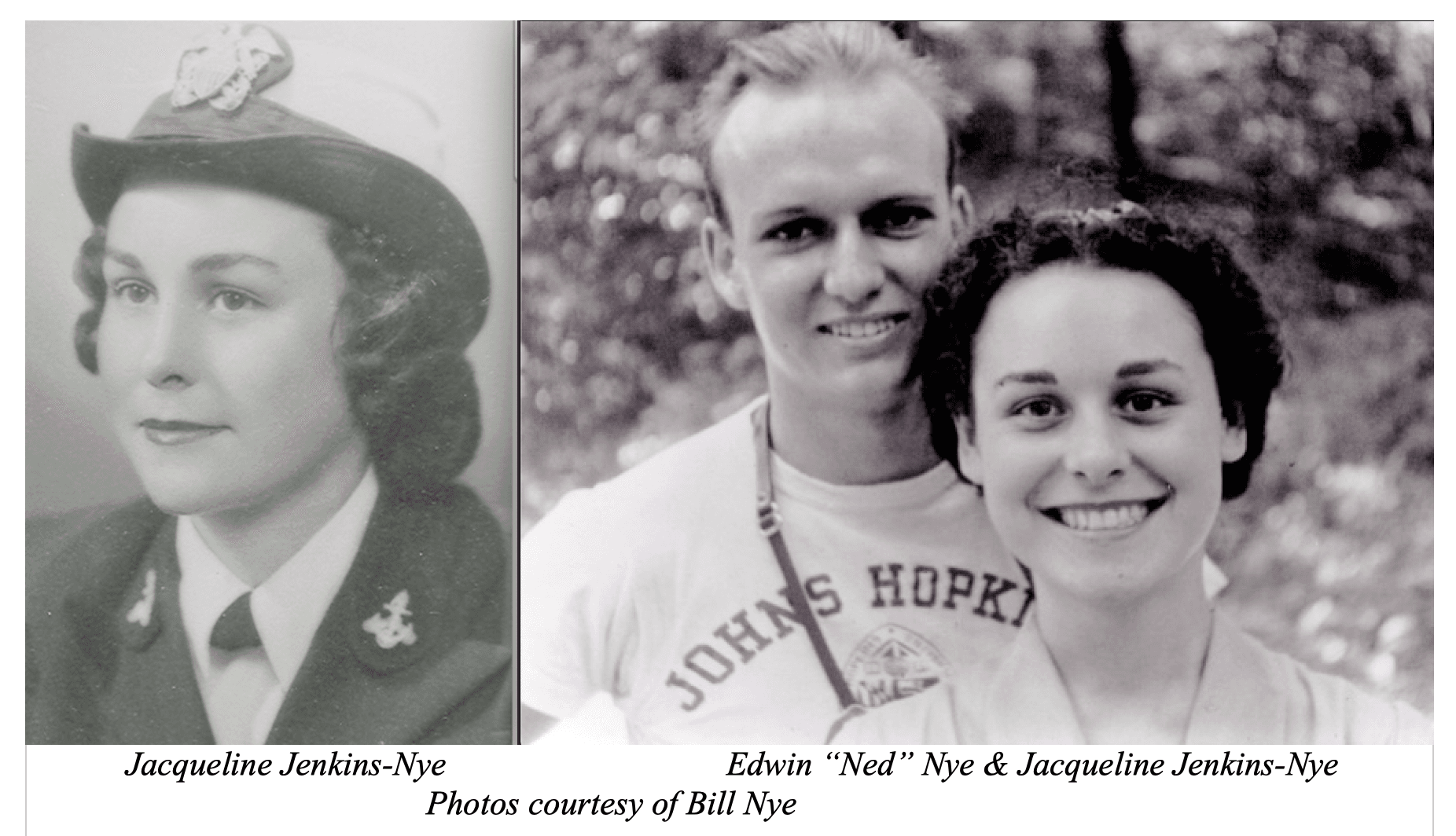 In October 2022, the NCF & INSF co-hosted Cocktails & Codebreakers – a Celebration of Women Cryptologists. During the program, guest speaker Mr. Bill Nye shared stories about his mother, Jacqueline Jenkins-Nye, who served as a codebreaker during WWII with the U.S. Navy WAVES.
The NCF's Cindi Saadi interviewed Bill prior to the event (early October 2022) to learn even more about his personal background and to ask his advice for engaging students in STEM. During the conversation Bill shared more details about his parents, and about how he believes women codebreakers impacted the women's movement.
Early in our conversation, it became clear that Bill's family history was steeped in science and that academic achievement had always been a core value. Bill's maternal grandfather was an organic chemist and professor at Johns Hopkins University. In fact, he received patents for adhesives while working at Crown, Cork, and Seal in Baltimore, MD. And Bill shared clear memories of his parents' diplomas, displayed on the wall behind each of their dressers.
"As a little kid wandering into my parents' bedroom, their diplomas were always there as if to say – 'this is what you are going to do – you are going to go to college'." said Bill.
Bill shared about his father, Edwin "Ned" Nye, who developed an interest in sundials while being held in a Japanese POW camp for four years during WWII. Since prisoners' watches were confiscated, Ned used items such as a shovel handle to watch shadows and compute time. According to family myth, Ned figured out their latitude and gave two escaping prisoners an idea of which direction to go. One soldier made it to Shanghai, and this was the first time anyone knew what happened to the men captured from Wake Island.
Ned Nye took that passion for sundials and went on to create a landmark work called "Sundials of Maryland and Virginia," a copy of which is held at the Smithsonian.
But it was Jacqueline, his codebreaker mother, who Bill says had a strong influence on his decision to pursue a technical career. When asked when he had learned about what she did during WWII, Bill said, "I still don't really know! She took it with her to her grave." In fact, he wasn't aware until 2020 that his mother was briefly stationed in Hawaii toward the end of WWII, working on Japanese codes.
What he could say with some certainty was that Jacqueline reviewed signals or codes decrypted from the German Enigma to help inform others of the location of ships, to include neutral ships carrying supplies in the North Atlantic.
Bill's mother loved creating limericks and solving puzzles, especially crossword puzzles. Her interests prompted her to respond to an ad in the Baltimore Sun seeking people who enjoyed doing crossword puzzles.
Little did she know that by responding to that ad – her codebreaking journey had begun.
Bill's mother and many other women were recruited from Goucher College. During their induction ceremony, they were shocked to learn of the serious and secret nature of the information they would be entrusted with and of the harsh potential consequences, including death, for divulging details about their work. Bill noted that during a female codebreakers' reunion some 50 years later, many women still remained reluctant to speak about what they did.
"As stressful as it was, that time during the war was the most satisfactory professional time in my mother's career. She went on to be a successful Washington, DC bureaucrat - a GS17, deputy administrator in the Government Services Association (GSA). All a result of her service with the Navy as a codebreaker."
Jacqueline Jenkins-Nye died on March 30, 2000 and her ashes are buried at Arlington Cemetery.
Bill highlighted the historical significance of his mother's codebreaker experience in regard to women's liberation.
"These women were some of the first to be entrusted with non-traditional work in the U.S. Women codebreakers were another brick in the women's liberation ziggurat."
Bill added that the codebreaker role had a deep personal impact on his mother.
"She became very interested in women's liberation and marched in two Equal Rights' parades."
On a personal note, Bill described his mother as a "very feminine feminist."
"She could tell you that if it was a white tie event, then the ladies' gowns must reach the floor and gloves reach below the elbow. If black tie, cocktail dresses below the knee."
Jacqueline was also a minor champion ballroom dancer. Bill jokingly said the reason she married his Dad was because he was also a very good dancer! Bill's father returned to the states at age 27 after four years in a POW camp. "Mom waited for him because he was that good of a dancer!"
And all these years later, Bill laughed at life's mysteries in regard to his own personal relationships.
"And now I have married the woman, Liza Mundy, who wrote a whole book about women codebreakers!"
Before closing our interview, I asked Bill, who has dedicated much of his career to helping to educate others (especially youth) about science, for his advice on the best way to interest more students in STEM fields. Bill suggested forensics is very a popular subject among young learners.
"Everyone is interested in forensics, but kids, especially, go through a phase of being very interested in secret writing and fingerprints, and in solving mysteries or who-done-its. Why not host challenges and reward those who solve them." said Bill.
Our thanks to Bill Nye for joining us for our special event in October 2022 to recognize women cryptologists and for participating in this interview.