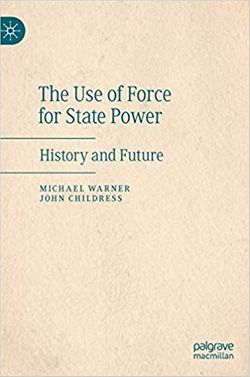 The Use of Force for State Power: History and Future by Michael Warner and John Childress, (Palgrave Macmillan, 2020) studies force, the coercive application of power against resistance, building from Thomas Hobbes' observation that all self-contained political orders have some ultimate authority that uses force to both dispense justice and to defend the polity against its enemies.
This cross-disciplinary analysis finds that rulers concentrate force through cooperation, conveyance, and comprehension, applying common principles across history. Those ways aim to keep foes from concerting their actions, or by eliminating the trust that should bind them. In short, they make enemies afraid to cooperate, and now they are doing so in cyberspace as well.
The authors are the keynote speakers for the NCMF's 22nd (Virtual) General Membership Meeting & Annual Symposium on 22 October 2020. Learn More.
The book is available via Amazon. Remember if you use Smile Amazon, you can designate the NCMF as your charity of choice.