NCMF General Membership Meeting & Annual Symposium
The NCMF General Membership Meeting & Annual Symposium takes place each October. In addition to updates from the NCMF president, New Museum Project, and the NCM's curator, the program includes guest speakers, a timely keynote address, and often features an expert panel discussion. The event includes breakfast and lunch. The lobby area features cryptologic displays, book sales, guest booths, and the NCMF holds a silent auction of rare items. Non-members receive a one-year basic NCMF membership with registration.
Next General Membership Meeting & Symposium - October 2019
Find links below to RECAP PAGES featuring information about and photos from previous Membership Meetings & Symposiums.
HELP US PROMOTE OUR PROGRAMS:  The NCMF seeks volunteers to help publicize the cryptologic programs we sponsor throughout the year. If you live in a retirement community, belong to a senior center, and/or visit other public places where events can be posted, please consider helping us spread the word. You can download event flyers from our website. We can also send flyers via post or e-mail, or make them available at the foundation office. Please e-mail cryptmf@aol.com if you are able to help. We encourage you to tell friends and family about these interesting and valuable programs.
---
Please Support the NCMF's Book Sale Program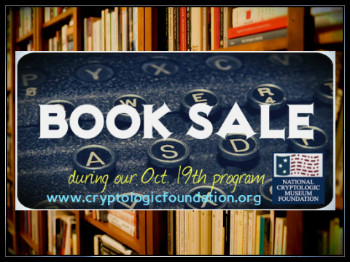 The new and used book sales at NCMF programs provide funds to help purchase additional artifacts for the museum. Books may be purchased and then returned after reading for a tax deduction and resale. Subject matter varies, though topics include cryptology, military history, biographies, intelligence matters, terrorism, and more. We also sell some periodicals and novels. The NCM librarian reviews all book donations and keeps some for the museum collection.
Please stop by the Book Sale in the lobby area during our programs. We accept cash and checks, and are adding credit and debit cards. Please help us continue this source of income by contributing and buying books.  
---
NCMF October Program & NSA Symposium on Cryptologic History - Biennial Pairing
Every other year the NCMF's October program coincides with the NSA's Center for Cryptologic History's (CCH) bi-ennial Symposium on Cryptologic History. The pairing of the events is often referred to as "Three Days of Cryptologic History" and attracts speakers and attendees from all over the world. The next pairing of these events will take place in October 2019. When these events occur together, the NCMF program takes place on a Wednesday, followed by the CCH Symposium on Thursday and Friday.
---
PREVIOUS MEMBERSHIP MEETINGS & SYMPOSIUMS
*** Click on the program dates below to visit a recap page (when available) with more information and photos.