The 2017 NCMF Summer Cryptologic Program took place on 20 June 2017 featuring Dr. David Priess, former CIA Intelligence Officer and author of the best seller The President's Book of Secrets.
***A special WWI program ("Decoding the Great War") took place immediately after our program at the Museum and included a variety of special guest presentations, as well as the presentation of the new WWI exhibit.
About our Guest Speaker - Dr. David Priess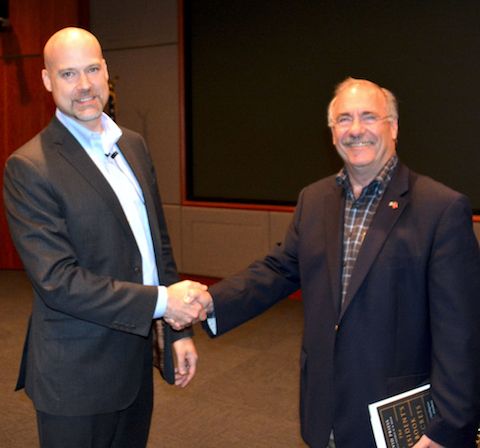 Dr. David Priess is author of The President's Book of Secrets: The Untold Story of Intelligence Briefings. (Learn more about the book below.) For this breakout book, he became the first author to interview every living former President and Vice President, as well as dozens of other leading national security and intelligence leaders of the past 50 years—CIA Directors, National Security Advisors, White House Chiefs of Staff, Secretaries of State, Secretaries of Defense, and Intelligence Community executives. 
Priess served at the CIA during the presidencies of Bill Clinton and George W. Bush as an intelligence officer, manager, and daily intelligence briefer, earning multiple awards and commendations. During the Bush administration, he took the President's Daily Brief and other intelligence materials every morning to senior recipients. 
Priess obtained his PhD in political science from Duke University and has taught international relations classes at Duke University, George Washington University, and George Mason University.
His writings have appeared in outlets ranging from Foreign Affairs, Foreign Policy, War on the Rocks, and The Cipher Brief online to the Washington Post, Houston Chronicle, Skeptic magazine, and Security Studies. 
Priess has presented in venues ranging from briefing rooms at the White House, Pentagon, and State Department to packed auditoriums across the country to national television, appearing often on CNN, MSNBC, and Fox News to discuss intelligence issues, campaign politics, and the presidency.
Learn more about Dr. Priess via his website www.davidpriess.com and follow him on Twitter (@davidpriess).
Click for a larger view of any of the photos below.
Dr. David Priess with NCMF President Dick Schaeffer

Mary Faletto with Dr. David Priess

NCMF Members Enjoyed the 2017 Summer Program

Dr. David Priess - Guest Speaker for NCMF 2017 Summer Program
About the Book
The President's Book of Secrets - by Dr. David Priess
Every president has had a unique and complicated relationship with the intelligence community. While some have been coolly distant, even adversarial, others have found their intelligence agencies to be among the most valuable instruments of policy and power.
Since John F. Kennedy's presidency, this relationship has been distilled into a personalized daily report: a short summary of what the intelligence apparatus considers the most crucial information for the president to know that day about global threats and opportunities. This top–secret document is known as the President's Daily Brief, or, within national security circles, simply "the Book." Presidents have spent anywhere from a few moments (Richard Nixon) to a healthy part of their day (George W. Bush) consumed by its contents; some (Bill Clinton and George H. W. Bush) consider it far and away the most important document they saw on a regular basis while commander in chief.
The details of most PDBs are highly classified, and will remain so for many years. But the process by which the intelligence community develops and presents the Book is a fascinating look into the operation of power at the highest levels. David Priess, a former intelligence officer and daily briefer, has interviewed every living president and vice president as well as more than one hundred others intimately involved with the production and delivery of the president's book of secrets. He offers an unprecedented window into the decision making of every president from Kennedy to Obama, with many character–rich stories revealed here for the first time.