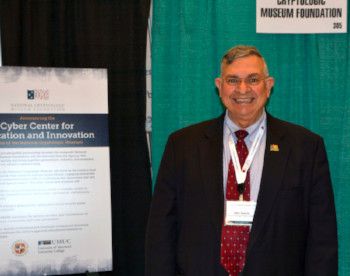 The NCMF and University of Maryland University College (UMUC) were pleased to serve as this year's co-sponsors of CyberMaryland's Cyber Education Forum. The demand for cybersecurity talent is expected to rise to six million globally by 2019. This year, one million cyber jobs are opening and over 200,000 jobs in the U.S. are unfilled. The case has been made for why cyber education and workforce development are high-stake missions in the fight against cyber-crime.

NCMF and UMUC recently formed a partnership tasked with development and coordination of the CCEI's cybersecurity-oriented educational outreach programs. These programs will emphasize workforce development and operational training requirements as defined by industry, government and academia. Therefore, it is especially valuable to begin piloting the CCEI's educational outreach programs, even though the actual facility is not complete, by helping develop the Thought Leadership track at CyberMaryland.

The NCMF was a sponsor and exhibitor again at this year's CyberMaryland conference. As such, the Foundation enjoys and appreciates the opportunity to engage with attendees who can help advance the strategic goals related to our current effort to capitalize a new facility with a greatly expanded physical presence and mission focus: The Cyber Center for Education & Innovation, Home of the National Cryptologic Museum (CCEI). The new CCEI is envisioned as an integrated multi-purpose facility serving public and private stakeholders with the goals of strengthening our nation's cybersecurity and defending critical infrastructure. To accomplish these goals, the CCEI will bring together government, industry and academia to promote the sharing of insight, knowledge and resources.
CLICK ON THE IMAGES BELOW FOR LARGER VIEWS.