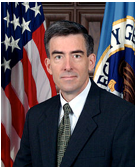 Mr. Inglis serves as the U.S. Naval Academy's Robert Looker Distinguished Chair for Cyber Operations. He retired from the Department of Defense in January 2014 following over 41 years of federal service, including 28 years at NSA and seven and a half years as its senior civilian and Deputy Director. As the NSA Deputy Director, Mr. Inglis acted as the Agency's chief operating officer, responsible for guiding and directing strategies, operations and policy. In 2014-2017, he served as the Chairman of the NCMF's Board of Directors.
Mr. Inglis holds advanced degrees in engineering and computer science from Columbia University, Johns Hopkins University, and the George Washington University. He is also a graduate of the Kellogg Business School executive development program, the USAF Air War College, Air Command and Staff College, and Squadron Officers' School. Mr. Inglis' military career includes over 30 years of service in the US Air Force – nine years on active duty and twenty one years in the Air National Guard – from which he retired as a Brigadier General in 2006. He holds the rating of Command Pilot and commanded units at the squadron, group, and joint force headquarters levels.
Since early 2014, Mr. Inglis has served as the keynote or panelist on national security affairs at the NCMF Annual Meeting & Symposium, Georgetown University, University of Texas Austin, the Johns Hopkins Applied Physics Laboratory, AFCEA, INSA, the Federal Bureau of Investigation, the American Enterprise Institute, SRI Menlo Park (on behalf of the Department of Homeland Security), the U.S. Congress, the Brookings Institute, Stanford Law School, the Stanford University's Hoover Institute, the annual meeting of the Financial Services Information Sharing and Analysis Center (FS-ISAC), the annual meeting of the Michael Milken Institute, and numerous other policy venues. He also serves as a member of the U.S. Strategic Command's Strategic Advisory Group, and Chair of its Intelligence Advisory Panel.
Mr. Inglis' significant Awards include the Clements award as the US Naval Academy's Outstanding Military Faculty member (1984), three Presidential Rank Awards (2000, 2004, and 2009), the USAF Distinguished Service Medal (2006), the Boy Scouts of America Distinguished Eagle Scout Award (2009), the Director of National Intelligence Distinguished Service Medal (2014), and The President's National Security Medal (2014).