Major General John E. Morrison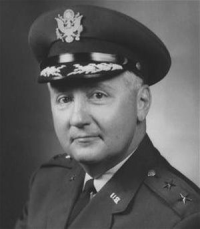 Major General John E. Morrison, Jr. 1918-2013
John E. Morrison was born on April 20, 1918 in Baltimore and graduated from the University of Baltimore in 1939 with a Juris Doctor degree. He graduated from the Air Command and Staff College in 1949 and from the Air War College in 1959.
Maj Gen Morrison was a member of the Board of Directors of the National Historical Intelligence Museum; founder, past president, and Chairman of the Board of the National Cryptologic Museum Foundation; and a member of the Joint Military Intelligence College Foundation Board. He was also a Phoenix Society Distinguished Member. 
Maj Gen Morrison's accomplishments were many and varied but two of Gen Morrison's proudest accomplishments were the creation of the NSA's National SIGINT Operations Center and his co-sponsorship of the AKA Smart (All Kids are Smart) program that introduced cryptology to local school curriculums. Read his biography at the USAF website and read about his accomplishments in the article written for his 2001 induction into the Cryptologic Hall of Honor by visiting the NSA website.
John E. Morrison, 94, a 40-year resident of Davidsonville, MD, died on January 11. 2013 at his home. 
The NCMF established The Major General John E. Morrison Award in Excellence and Innovation as part of its participation with the Maryland History Day Competition. The Morrison Award is for outstanding projects that address topics related to the history of science and technology. The $500.00 donation sponsors two achievement awards – one in the junior division (grades 6 through 8) and one in the senior division (grades 9 through 12).