Join Us Online For The Next #CyberChat
---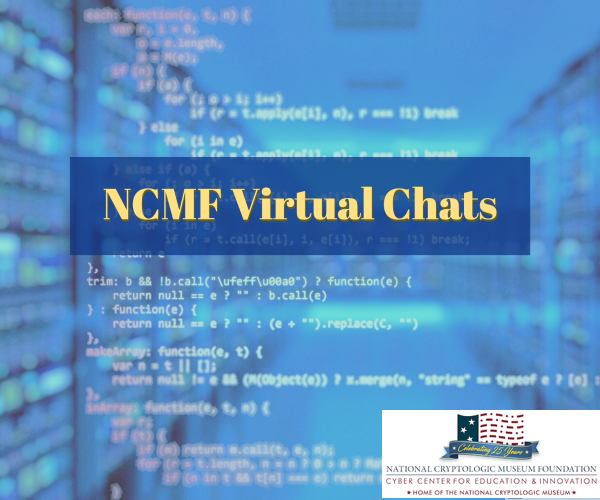 ---
UPCOMING CHATS - NCMF via Nepris and NCMF Fireside Chats via Zoom
NEPRIS: For Nepris-related #CyberChats, you will need to create a free Nepris account to attend a live session or view the video recording. Please click on the course Date/Titles to visit their corresponding course page on the Nepris website. You can also visit our NCMF Nepris page. Interested in presenting a chat? Sign up here.
NCMF ZOOM: For NCMF Fireside Chats - please take note of the Zoom webinar registration information once it becomes available for each chat.
---
NCMF #CyberChats via Nepris
11 March 2021, 12noon EST: Women's History Month #CyberChat with Barbara McNamara

Barbara McNamara began her career as a Chinese Linguist and served in several analytic, operational, and managerial positions at the National Security Agency (NSA). In 1994, she became the first woman to be Deputy Director of Operations, and in 1997 she reached the highest civilian position at NSA when she was named the Agency's Deputy Director. In 2000, she became the first woman to hold the position of Senior United States Liaison Officer to London. Ms. McNamara received several prestigious awards, and in June 2000, she received the Intelligence Community's highest award, the National Intelligence Distinguished Service Medal.

Stay Tuned for Details about this Women's History Month #CyberChat

23 March 2021, 1pm EST: #CyberChat with Debbie Plunkett

Debbie Plunkett served first as the Deputy Director, and thereafter for over four years as the Director of the National Security Agency's Information Assurance Directorate. As the leader of NSA's cyber defense, cryptography, and information systems security missions, she directed thousands of personnel across NSA's worldwide presence and managed a multi-million-dollar budget. Her efforts enabled continuous innovation and development of strong security solutions and policies for the protection of the classified communications of the United States government, serving the needs of a wide range of consumers from the White House to the war fighter.

Stay Tuned for Details about this #CyberChat.
---
NCMF Fireside Chats via Zoom Webinar
31 March, 2:45 - 3:45 pm: NCMF Fireside Chat with Ms. Sally Botsai

Please stay tuned for more details regarding this special Fireside Chat - to include registration information.