NCF Education Program Partnership Initiatives
While the demand for highly educated and trained cybersecurity professionals is more than a half-million, the number of individuals ready to fill these positions is severely lacking. The National Cryptologic Foundation (NCF) provides unfettered outreach opportunities for learning and partnerships to advance Cybersecurity education to prepare the next generation to succeed in the cyber workforce of tomorrow. Through NCF programs and partnerships, the richness of our combined cybersecurity expertise engages, excites, and encourages the cybersecurity workforce of tomorrow.
---
Cybersecurity Booklet for Students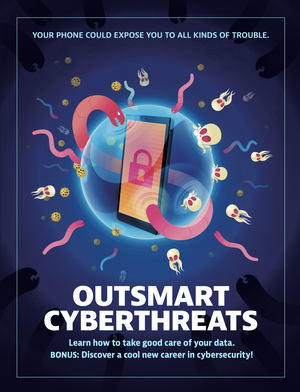 The NCF thanks Gula Tech Adventures for their support of this project to create the Outsmart Cyberthreats booklet for students. We received a grant from the Gula Tech Foundation to develop, produce, and promulgate a customized focused booklet on Cybersecurity Education & Professions. The work is now complete thanks to our partner Start Engineering. The booklet presents information about cybersecurity or "Data Care" concepts in engaging and easy-to-understand manner. It also introduces students to a variety of cyber professions, and provide teachers with a tangible guide to assist parents and students.
Our goal is to get this booklet into the hands of all middle and early high school students. If you are interested in helping to cover shipping costs for educators, please visit the shipping donation page.
Please click the button below to learn more and to view the downloadable PDF or view the booklet on FlipBuilder.
---
High School Cybersecurity Curriculum Guidelines (CCG) & Course
Since 2018 the NCF has operated without walls laying the groundwork to develop cybersecurity curriculum guidelines for K-12 students, and professional development for teachers, counselors, and administrators. The High School Cybersecurity Curriculum Guidelines (1) ​(CCG)​ encourages curriculum providers, teachers, and industry to create curriculum designed to inspire high school students to pursue a profession in cybersecurity, as well as develop thinkers with a cybersecurity mindset that will enhance any profession they pursue.
In partnership with Teach Cyber, a year-long, high school introductory cybersecurity course based on the CCG is now available. The overarching goal of the course is to introduce students to the foundational concepts, principles, and tools of cybersecurity.
---
1 ​The Cybersecurity Curriculum Guidelines were developed using the Backward Design Model (Wiggins McTighe 2005) and designed by educators.
---
High School/Middle School Focus Groups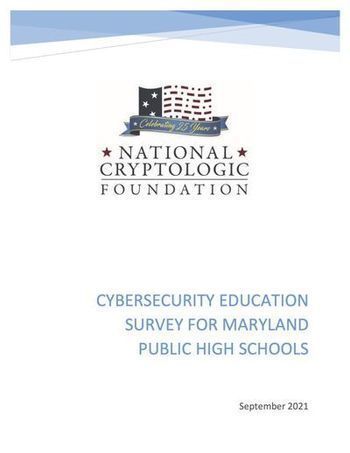 Rita McCardell Doerr, Ph.D., National Security Agency, Senior Technical Development Program (STDP), Office of Academic Engagement has assisted the NCF's efforts with the University of MD Global Campus (UMGC) and the MD State Department of Education (MSDE) to develop a series of Focus Groups aimed at gathering Teachers, Administrators, and Counselors throughout MD.
The aim of this effort has been to seek input from MD's K-12 academic community to guide future NCF and Agency educational programs. In collaboration with MSDE and UMGC, Dr. Doerr has assisted the NCF in planing and conducting focus groups targeting middle and high school communities. She has analyzed data collected to ascertain the most common educational needs of this cohort and assisted in developing recommendations for the NCF and NSA K-12 educational programs to include programmatic details of content, resources, and delivery mechanisms.
---
Online Virtual Learning - Partnering with Nepris
With our online education partner Nepris, we can deliver cybersecurity content virtually to over 8,000 classrooms nationwide via NCF's Cybersecurity Chats (#CyberChats). The #CyberChats are opportunities for students to hear and interact with current and former cybersecurity professionals, including our members to talk about their history and experience to stimulate students to choose cybersecurity as their profession.
Nepris connects teachers and students with industry experts in live online chats that may involve virtual field trips, Q&A with experts, project mentoring, topic discussions, project evaluations, and more. Using Nepris, students and teachers can request a Chat focused on a particular topic. The NCF then partners with experts and organizations to help meet these requests. The sessions are highly interactive and bring relevance into the classroom, introduce students to role models, and inspire them toward careers they may never have known about or thought were unattainable.
---
Cybersecurity Gaming Kiosk / Online Game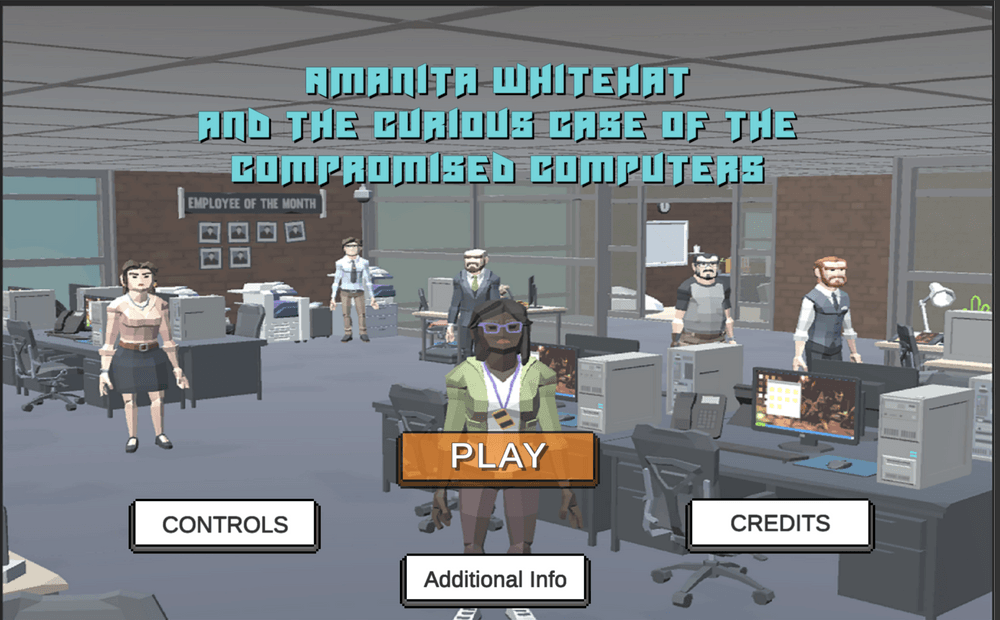 Supported by a grant from the Arundel Community Development Services, Inc., the NCF has teamed with Anne Arundel Community College to sponsor a three-student intern team to develop, design, construct, and deliver an operational cybersecurity-themed game. The target audience is K-12 with a focus on middle school. The game is now available to play on the NCF website, and will eventually be available via a kiosk at the National Cryptologic Museum. This project will teach the interns project management and leverage their cybersecurity, networking, digital forensics, and computer science knowledge.
---
Cybersecurity Escape Room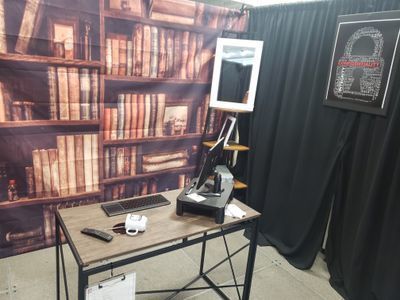 Nine hundred Scouts at the 2019 Scout World Jamboree experienced the NCF's Cybersecurity Escape Room. We recently received a grant from the Arundel Community Development Services, Inc. that will further the NCF's partnership with NiSuS to improve the room and develop a "fly-away" capability. This fly-away kit will enable NCF to transport and operate the Cybersecurity Escape Room at any location like a high school. Enhancements include incorporating more National Cryptologic Museum artifact examples.
---
Assured Quality Cybersecurity Curriculum Repository - CLARK
The NCF partners with Towson University to host an assured quality curriculum repository called CLARK (Cybersecurity Labs & Resources Knowledge-base). This repository holds assured quality learning objects (LO) supporting collegiate level cybersecurity curriculum from the National Security Agency's National Cybersecurity Curriculum Program and the National Science Foundation's Catalyzing Computing and Cybersecurity in Community Colleges (C5) program. These collections have over 783 learning objectives with over 8,708 downloads from 3,371 users representing 2,201 affiliated organizations​.
The "Cybersecurity Labs and Resources Knowledge-base" (CLARK) provides a "one-stop access" to assured quality cybersecurity curriculum addressing topics such as forensics, adversarial thinking, secure coding, SCADA security, and others. It is a living library of cybersecurity curriculum, and a community of cybersecurity educators committed to sustaining it.
---
Virtual Tours
Interactive virtual tours of the National Cryptologic Museum (NCM) were pioneered by NCF with our tele-presence robot, Friedman. The NCM now offers routine virtual tours using a mobile iPad capability. Advancements to this technology have blossomed due to virtual learning imposed by COVID restrictions. Using augmented reality, virtual reality, and advancements of tele-presence robots, developing a robust interactive virtual experience is possible thereby globally extending the reach of NCM to all students. Schools near and far may gain access to the rich history of the National Security Agency's presence in supporting the defense of our country.
---
Resource Directory
The NCF was awarded a Subaward grant from the 2020 CAE CSUSB NSA grant, for an innovative project to develop a Resource Directory of all the work from the 300 CAEs. The Resource Directory, once completed, will be a research tool that will identify the breadth of cybersecurity in one repository.
---
High School CAE Study
The NCF was awarded a Subaward grant from the 2020 CAE CSUSB NSA grant, to conduct a feasibility and advisability study of developing and implementing a High School Centers of Academic Excellence program.