Additional NCF Education Program Partnership Initiatives
In addition to the projects and programs listed on our Cybersecurity Education page, the opportunities below are yet more examples of the NCF's efforts to further our reach to advance Cybersecurity Education and help to prepare tomorrow's cyber workforce. Partnerships with other organizations and agencies are key to our success!
---
High School/Middle School Focus Groups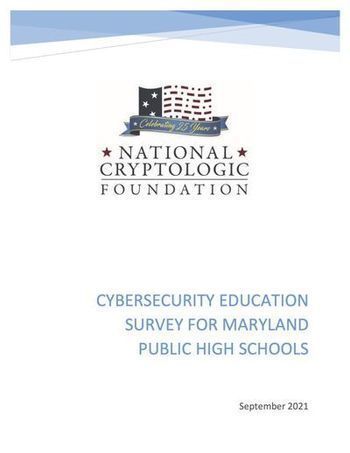 Rita McCardell Doerr, Ph.D., National Security Agency, Senior Technical Development Program (STDP), Office of Academic Engagement has assisted the NCF's efforts with the University of MD Global Campus (UMGC) and the MD State Department of Education (MSDE) to develop a series of Focus Groups aimed at gathering Teachers, Administrators, and Counselors throughout MD.
The aim of this effort has been to seek input from MD's K-12 academic community to guide future NCF and Agency educational programs. In collaboration with MSDE and UMGC, Dr. Doerr has assisted the NCF in planing and conducting focus groups targeting middle and high school communities. She has analyzed data collected to ascertain the most common educational needs of this cohort and assisted in developing recommendations for the NCF and NSA K-12 educational programs to include programmatic details of content, resources, and delivery mechanisms.
---
Virtual Tours
Interactive virtual tours of the National Cryptologic Museum (NCM) were pioneered by NCF with our tele-presence robot, Friedman. The NCM now offers routine virtual tours using a mobile iPad capability. Advancements to this technology have blossomed due to virtual learning imposed by COVID restrictions. Using augmented reality, virtual reality, and advancements of tele-presence robots, developing a robust interactive virtual experience is possible thereby globally extending the reach of NCM to all students. Schools near and far may gain access to the rich history of the National Security Agency's presence in supporting the defense of our country.
---
Resource Directory
The NCF was awarded a Subaward grant from the 2020 CAE CSUSB NSA grant, for an innovative project to develop a Resource Directory of all the work from the 300 CAEs. The Resource Directory, once completed, will be a research tool that will identify the breadth of cybersecurity in one repository.
---
High School CAE Study
The NCF was awarded a Subaward grant from the 2020 CAE CSUSB NSA grant, to conduct a feasibility and advisability study of developing and implementing a High School Centers of Academic Excellence program.