NCMF Presentations at the March 2020 AFCEA Program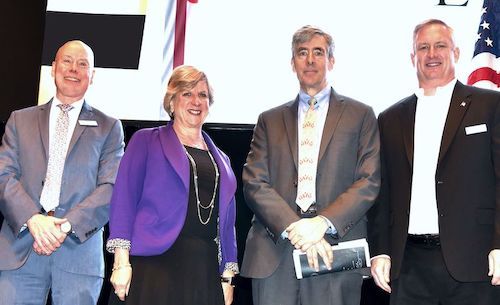 At the March 2020 AFCEA Central Maryland Chapter Luncheon, Chris Inglis, U.S. Naval Academy's Looker Distinguished Chair for Cyber Studies & NCMF Board Member and Laura Nelson, NCMF President & CEO, were featured speakers. See a gallery of photos from the event featured below.
Inglis' presentation entitled Collective Security in the Age of Cyber provided the history of the U.S. Cyber Strategy that includes an escalating number of Nation-State Cyber Attacks on both public and private sectors. Some of those Nation-State Cyber Attacks include:
Massive Intellectual Property Theft from U.S., 2008-2016
Denial of Service Attacks on U.S. Financial Infrastructure, 2012 – 2013
Disruption and Theft against Sony Pictures, 2014
Theft of U.S. Office of Personnel Management Security Records, 2015
Interference of U.S. National Elections, 2016
Wannacry Global Ransomware, April 2017
Notpetya Massive Disruption and Destruction, June 2017
Attempted interference in U.S. National Elections, 2018
Growing Trend of unchecked ransomware attacks. 2019
Inglis stated that these threats involve theft, disruption, destruction, and subversion, and people don't have the wherewithal to protect themselves. Despite years of cyber-attacks, the U.S. has been unsuccessful in curbing cyber-attacks and instead, such attacks escalate each year.
Inglis also serves as a member of the Cyberspace Solarium Commission. The commission was established as a result of the National Defense Authorization Act of 2019 "to develop a strategic approach to defending the United States in cyberspace against cyber-attacks of significant consequences." He provided a preview of the Commission's Report (released a week after his presentation) that will strive to reduce or prevent many of the cyber-attacks mentioned above. The Commission's emerging conclusions were:
Deterrence is not working to stop our adversaries actions in the grey zone, short of armed conflict.
Public-Private partnership is crucial in cybersecurity, where the vast majority of cyberspace and our critical infrastructure is owned and operated by the private sector.
Defense and resilience is a meaningful differentiator in cyberspace. And for years, we have been delinquent in investing in meaningful defense and resilience.
The final report includes six pillars, 80 recommendations, and several dozen legislative proposals, and can be accessed via www.solarium.gov.
Ms. Nelson provided an update of the Capital Campaign for the Cyber Center for Education and Innovation (CCEI) - Home of the (new) National Cryptologic Museum. The Capital Campaign is close to raising funds needed to begin Phase A of the project. If all goes according to plan, it will be possible to break ground and begin construction in late Summer or early Fall 2020.
She shared with AFCEA members that CCEI is developing a High School Cybersecurity Curriculum Framework (CCF), educating for the future, and helping students and teachers learn outside of the classroom via the CCEI-NEPRIS capability of delivering content to 8,000 schools nationwide, and is creating webinars with our partners to train teachers & school counselors.
GALLERY PHOTOS - CLICK ON IMAGES FOR LARGER VIEW & DESCRIPTIONS