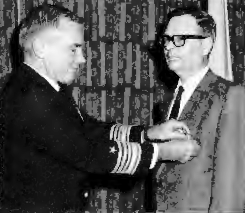 Thomas A. Prugh
The below information is from a 1970 NSA Newsletter article:  Thomas A. Prugh Presented Award For Exceptional Civilian Service
Thomas A. Prugh, Assistant Director, NSA, for Science and Technology, was presented the Agency's Exceptional Civilian Service Award by Vice Admiral Noel Gayler, USN, DIRNSA.
Mr. Prugh has served United States cryptology with distinction for twenty years. Early in his career he was personally responsibile for developing new special equipment and for leading a group that conducted pioneering research.
While working for the Diamond Ordnance Fuze Labs, 1951-1958, Mr. Prugh and four associates were awarded $5,000 each by the government for a microelectronics research project that produced breakthroughs in electonic circuitry of far-reaching value to United States space exploration, to the military forces, and to the entire electronics industry. He also received two smaller awards from the U.S. Army.
Prugh conducted the planning, technical forecasting and coordination related to major tehnical programs. Mr. Prugh holds several patents for his inventions and has written a number of technical articles.
A senior member of the Institute of Electrical and Electrical Engineers, Mr. Prugh also belongs to the Association of Computing Machinery, Tau Beta Pi, Sigma Xi, and Eta Kappa Nu.