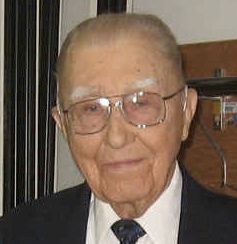 Selmer Norland, 99, passed away on December 5, 2015. He was the last surviving member of the first group of Americans to be assigned to Bletchley Park during World War II. Selmer was one of America's "Greatest Generation," a retiree from NSA, and a great person.
He was born on a farm near Garner, Iowa. The early years of his life were in a Norwegian speaking family which was his only language until he entered school.  He excelled in school through Luther College where he graduated with majors in History and English with minors in German and Education.
Following Pearl Harbor as he has stated, "the Army indicated an increased desire for my services." After a short deferment to complete his Master's Degree in History he was inducted into the Army at Ft. Snelling, MN. Based on his high scores on the Army General Classification Test he was sent to the Signals Corps at Camp Crowder, MO where in rapid succession he was chosen for Officer Candidate School, commissioned as a 2nd Lieutenant in 1943 and sent to the Signal Intelligence School at Arlington Hall.
At this time U.S and British dicussions resulted in the integration of U.S Army personnel into Bletchley Park. Selmer was one of the first group selected by Captain William Bundy to go to Bletchley.
Based on his linguistic expertise in German and his mathematical ability, he was assigned to Hut 3 which handled evaluation and translation of decrypts from the intercepted German Enigma machines. For his efforts he was promoted to Captain and was presented with the Most Excellent Order of the British Empire, Degree of Honorary Member. This prestigious metal was presented by Lord Inverchappel in 1947. The citation reads in part "by his keenness and application to duty, coupled with exemplary modesty, he contributed handsomely both to the intelligence output of the station and to the establishment and maintenance of good relations between the two countries."
His work at Bletchley was a highlight of his career, but he went on to two other overseas assignments, one in Oslo, Norway and one in London, England. For the Oslo assignment he was on loan to the State Department but his actual employer was the CIA. Part of the job was traveling the Norway coast on board a trawler undercover as a fisherman while he attempted to intercept Russian signals and messages (he was also a Russian linguist).
Selmer retired from NSA in 1974 and returned as a retired annuitant. He also worked as an enrolled agent of the IRS preparing income tax returns. He was a active member and patron of the National Cryptologic Museum and participated in symposia and seminars. Three weeks before his death he attended a historical seminar and was recognized by current and former NSA Associate Directors. He was humbled by the standing ovation from attendees when introduced as one of the few surviving cyptanalysts who had served at Bletchley Park.   
He lived most of his career life in Silver Spring, MD with his wife Dorothy who can still be seen in an iconic Arlington Hall photo where she once worked. They were active members of St. Luke Lutheran Church in Silver Spring where they regularly attended the Sorrick Bible Study Class unless they were traveling throughout the world.  Selmer was a walker - he was "down" to about three miles a day in his last year.
Both Dot and Selmer were very proud of their two daughters, Janet Schwenke and Deborah Dixon and their extended families. During the Celebration of Life of 100 years which was held on the date the family had planned to celebrate Selmer's 100th birthday, the seven grandchildren and eleven great-grandchildren helped to blow out the 100 candles on the cake.