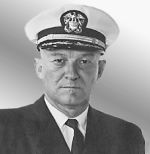 George Paul McGinnis, CAPT., USN (Ret.) died peacefully at home Wednesday, October 11, 2006. Captain McGinnis was born in Texas and spent his young life there through high school. He lived in Los Angeles during his teen years and graduated from the University of California, Santa Barbara, in 1942. He joined the Naval Reserve prior to WW II and was called to active duty as Ensign, USNR, upon graduation from college.
He served as a cryptologic officer during his entire 31 year naval career, with duty stations in Washington, DC, Brazil, Japan, Okinawa and Turkey. He also served at Naval Security Group Headquarters in Washington, DC, National Security Agency Headquarters, Fort Meade, MD, and with the Secretary of the Navy in Washington, DC. He was Commanding Officer, Naval Technical Training Center, Corry Station, Pensacola, Florida, just prior to retirement.
George was a graduate of the Naval War College and did Post Graduate work at Harvard University, Massachusetts Institute of Technology, and the University of West Florida. Throughout his life he was interested in electronics. He began building radio equipment at age 10 and was a licensed amateur radio operator from age 12, call sign K4CRQ. While still in his teens, George designed a radio control system for a model boat and wrote articles about it for technical publications. This system was used by the navy in the design of target drone aircraft during WWII.
After military retirement in 1972, he built his home in Gulf Breeze, FL and volunteered many years in community service. He was on the Board of Directors of the Military YMCA, the United Way, Retired Senior Volunteer Program and the Pensacola Navy League. He was a certified Florida County Court Mediator and mediated cases in Escambia and Santa Rosa counties for more than fifteen years. George worked with the Naval Cryptologic Veterans Association and authored their History Book. He was instrumental in moving the Naval Cryptologic Museum from Washington, DC, to the Center for Cryptology, Corry Station, and worked at the Command Display of cryptology for several years.
George's wife, Elvia Parish McGinnis, died in 1979. He is survived by his three children, Michael McGinnis of Lusby, MD, Patrick McGinnis and his wife, Frances of Walnut Creek, CA and his daughter, Commander Debra S. DelVecchio, USN, (Ret.), her husband, Michael, and their twins, Anthony and Carmen of Hamilton, VA. He pays special tribute to his companion of many years, Susan T. Metzger, whose intelligence, beauty, wit and perseverance served the two of them well through many trials and tribulations over the past 15 years. In his own words, "A very happy life to all of you. Susan, this time I won't be back."
At George's request, there was no funeral or memorial service. His ashes were buried at Barrancas Military Cemetery, NAS, Pensacola, Florida.
If you want to remember George, please plant a tree in his memory.
Via The Washington Post on Oct. 2006