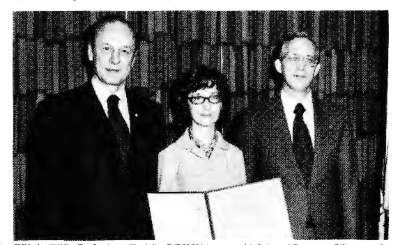 In 1973, Dr. Louis W. Tordella, D/DIRNSA, presented Eugene A. Gilbertson with the NSA Meritorious Civilian Service Award for singluarly significant accomplishments in an area of vital importance to national security. Through the exercise of technical intitiative and an unuusal display of competence, he was a leader in the development and reduction to successful practice of what became a basic technique to wide applicability.
"Mr. Gilbertson not only was the originator of many of the innovative features of this technique but was the principal in the devlopment of the entire system and carrying it to the point of practical and regular use. The demonstrated improvements resulting from this pioneering effort are of such magnitude that they would otherwise have been possible only through the expenditure of several millions of dollars," his citation read.
In the photo- Dr. Louis W. Tordella (left), poses with Lois and Eugene Gilbertson.