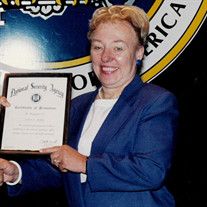 On the 5th day of October 2017, Alicia Newman lost her brave battle with cancer. Alicia loved traveling, the beach, spending time with her family and friends, and winning canasta games.

Alicia was born and raised in Salem, Massachusetts where she attended parochial and public schools. She was valedictorian of her high school class, and attended Emmanuel College in Boston and Middlebury in Vermont, majoring in Spanish and Slavic languages. Alicia was recruited to work at the National Security Agency in 1962, serving for 32 years. During a seven-year break, she was a religious education, Spanish preschool, and home teacher, as well as a leader and staff member of the Camp Fire Girls.

After retirement from government service in 2002, Alicia worked and volunteered at Partners in Care in Crofton and Severna Park. She was active, serving as president and most other offices in the Business and Professional Women (BPW), as well as the Association of American University Women, and Questers.
She leaves behind her husband of 53 years, Charles R. Newman; two children, Linda Hepler, Jeff (Dianne) Newman and six grandchildren Amber and Troy Hepler, Kayla Bailey, Hannah Fyfe, and Skylar and Matthew Newman, whom she loved very much.

In lieu of flowers, donations may be made to Partners in Care, 6S Ritchie Hwy, Pasadena, MD 21122; Emmanuel College, 400 the Fenway, Boston MA 02115; St. Joseph's Church, 1283 Odenton Road, Odenton, MD 21113; or the American Cancer Society.

A Memorial Mass was held on October 9, 2017 at St. Joseph Catholic Church in Odenton, MD.