A visit "well worth your time!"
---
Visit the NCM Virtually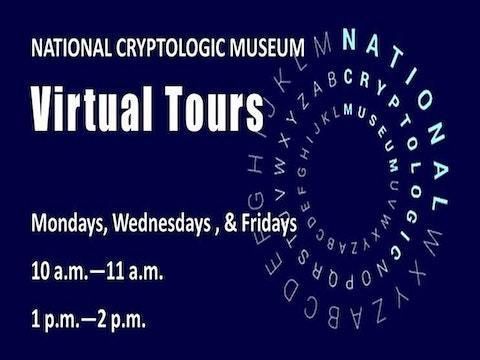 In 2020, the Museum closed due to Covid-19. Now in 2021, the Museum will be closing in June or July for several months to make needed repairs. Please take advantage of the virtual opportunities available - to include full virtual tours, as well as other virtual programs such as Artifact and Library Spotlights, and special lectures. The Museum is also now on VirMuze - a special virtual site for museums (see below). To learn more about upcoming virtual events, check our Event Calendar, and/or visit the Museum's Facebook page.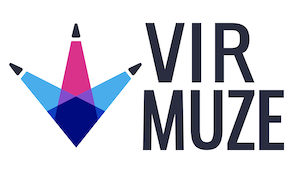 Want to learn more about what the Museum has to offer? With content added regularly, you can now interact with the exhibits! Find activities, quizzes, videos, photos, and more on the Museum's new social media page on VirMuze. In order to follow the Museum on VirMuze, leave comments, or take the quizzes, you will need to create a free account. Visit the Museum on VirMuze!
---
The Museum - In Person (Once it re-opens)
(IN 2020,  THE MUSEUM CLOSED TO THE PUBLIC DUE TO THE CORONAVIRUS PANDEMIC. IN LATE JUNE OR EARLY JULY 2021, THE MUSEUM WILL CLOSE FOR SEVERAL MONTHS DUE TO REPAIRS. PLEASE STAY TUNED TO OUR WEBSITE AND TO THE MUSEUM'S FACEBOOK PAGE FOR UPDATES.)
(When open) The NCM is free of charge to the general public. The approximately 60,000 people who visit each year would say it is -- A VISIT WELL WORTH YOUR TIME!
In addition to the information about the Museum on our website, you can also visit the NSA website for information about all exhibits, days and times the Museum is open, directions (note for GPS users - enter 8290 Colony Seven Rd, Fort Meade, MD 20721), and more.
National Cryptologic Museum Hours of Operation:
Monday - Friday:  9am to 4pm
Saturdays (1st and 3rd of the month):  10am to 2pm
Closed Sundays and Federal Holidays
Phone numbers:
Office - 301-688-5849
Gift Shop - 301-688-6857
Library - 301-688-2145
Fax - 301-688-5847
*** Group tours should be scheduled in advance.
Find information about the Museum at www.nsa.gov/about/cryptologic-heritage/museum
*** For those interested in also visiting National Vigilance Park (NVP) - PLEASE NOTE - as of early 2017, the aircraft have been dismantled and removed due to planned construction of a new NSA Vehicle Control Point (VCP). There are plans for NVP to be reconstructed once the new museum is built. For more information about NVP - click HERE.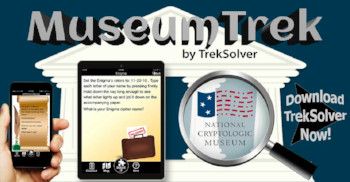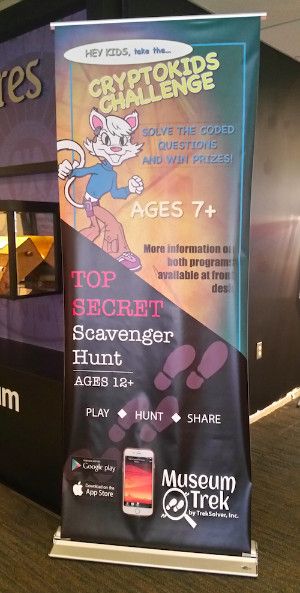 The Museum has a new interactive program for guests. Download the TrekSolver App on your smartphone and go on a "Top Secret Scavenger Hunt." It's FREE and it's fun! Find the answers and solve the puzzles, and get a certificate redeemable for prizes at the front desk. A fun way to explore the museum. (Best for ages 12+)
Also available on the TrekSolver App - a "Women In Cryptology" Tour highlights 18 of the tens of thousands of women who have made contributions to American cryptologic history from the Revolutionary War through the current conflict in Iraq. Women have been involved in all aspects of cryptology, including collection, cryptography, cryptanalysis, computers, languages, and various forms of intelligence. Especially perfect for Women's History Month!
This free app is free to download. Go to the App Store or Google Play and search on TrekSolver (all one word). Download the free app. When it opens, enter zip code 20755 and the National Cryptologic Museum will be the first option.
As we continue our campaign to build the new Cyber Center for Education & Innovation and home of the National Cryptologic Museum, we periodically receive questions about how the construction of the new facility may impact the current museum.
For the most part, the construction of the new facility will not impact current museum operations. Once the new facility is completed, the current museum will be razed. There will be a period of one to two months where the current museum will have to shut down in order to move selected artifacts to the new facility. However, that time period has yet to be determined and is at least two years away.
NCM Volunteers are Key to Your Visit
The Docent Program and Receptionist Program, both staffed by knowledgeable and helpful volunteers, will make your Museum visit more enjoyable, interesting, and educational.
Docent Program
The National Cryptologic Museum's docent program is critical to the operation of the facility. Visitors to the museum consistently remark that the NCM's tour guides are what set the facility apart from other intelligence and defense related museums.
All NCM docents are former NSA employees. This fact not only allows them to better understand the parameters they need to operate under from a security perspective, but also allows them to enthrall their audiences with their own personal cryptologic experiences.
Docents at the National Cryptologic Museum provide the majority of our guided tours for a wide variety of groups and organizations. While docents are normally used for scheduled tours, they also take walk-in tours if they are available. The NCM cannot guarantee a tour to any visitor without it being scheduled in advance. NCM docents work hard to accommodate museum customers, but it is always best to make tour arrangements prior to your arrival.
The NCM is always looking for outstanding individuals to join our docent corps.
Applicants for the docent position should be current or retired NSA Blue Badge employees, be willing to undergo a brief but substantive training program, and enjoy imparting cryptologic history to Agency personnel and the general public.

If you are interested please contact the curator, Mr. Patrick D. Weadon at pdweado@nsa.gov or the museum office by phone at 301-688-5849.
Receptionist Program
Receptionist applicants should have some connection to the National Security Agency, (e.g. retiree, former employee or contractor or close relative of an Agency employee) have an interest in cryptologic history, and enjoy working with the general public. Job duties include greeting visitors, stocking publications, providing general information on the NCM, and distributing the "Crypto-Kids Challenge" to young visitors to the facility.
This is a terrific opportunity to volunteer in a friendly place and to become more aware of the history of signals intelligence and information assurance. The hours are from approximately 9 a.m. to 3 p.m. on weekdays and 10 a.m. to 2 p.m. on the first and third Saturday of the month. If you are interested please contact the curator, Mr. Patrick D. Weadon at pdweado@nsa.gov or the museum office by phone at 301-688-5849.