Information Assurance Gallery with Magic Planet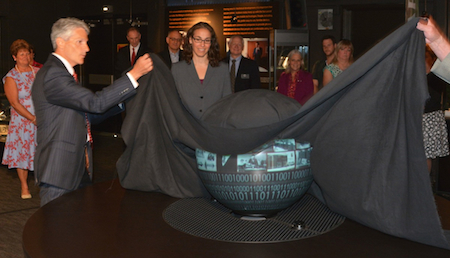 The Museum's Information Assurance Gallery was updated in July 2015 and dedicated to NSA's Information Assurance mission. A special centerpiece of the updated gallery is a Magic Planet interactive education display, sponsored by the NCMF, that highlights the history of communications in a compelling, visual and interactive medium.
See the bottom of the page for a gallery of photos from the 2015 opening of the gallery.
---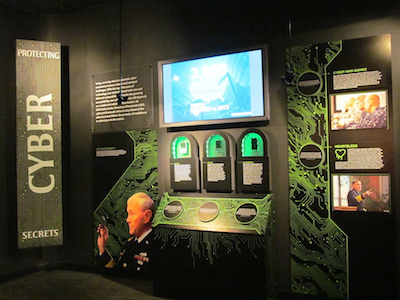 Protecting U.S. communications and cyber systems is critical to protecting the nation and our service men and women overseas.
In July 2015, the National Cryptologic Museum opened an updated Information Assurance Gallery 3 to highlight the equipment and stories, past and present, that detail how NSA protects written, spoken, military, space, and cyber communications. The gallery also exhibits NSA's intelligence support to space and feature some of NSA's success stories in defending the Nation's communications security. A Magic Planet interactive display serves as a centerpiece for the gallery and highlights the history of communications.

See the official NSA press release about the opening of the new Gallery 3.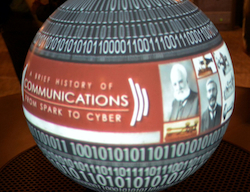 The NCMF has sponsored a Magic Planet interactive display for the exhibit. The Magic Planet is a large globe is programmed with information on the importance of cybersecurity and the history of communications. The Magic Planet sparks a visitor's imagination and helps people to understand information in a global context.
---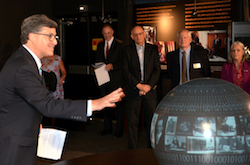 The display helps tell stories in a compelling and interactive way that people find very enjoyable. The Magic Planet is especially effective for educational tours and presentations and helps to grab and hold the attention of students of all ages.
---
PHOTO GALLERY - CLICK ON THE IMAGES BELOW TO SEE LARGER VIEWS.
Many thanks to NCMF Member John Garcia for the photographs.