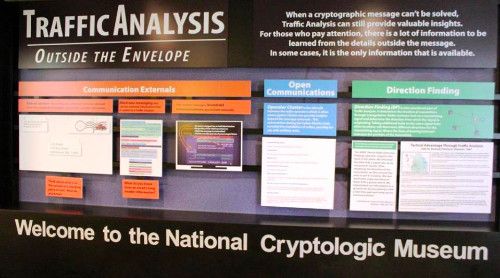 Cryptologic Treasures Now Features Traffic Analysis (Aug 2017)
The Cryptologic Treasures exhibit at the National Cryptologic Museum is refreshed every few months so that the Museum can share as many rarely seen artifacts as possible with visitors, or to display information on important cryptologic topics.
As of August 2017 - Introducing Traffic Analysis! When a cryptographic message can't be solved, traffic analysis can provide valuable details. This new display provides examples of traffic analysis and where analysts find useful information.
The postmark on an envelope is one example of communications externals. This reveals where a message entered the postal system. Idle chatter on radio broadcasts during the Cuban Missile Crisis revealed installation of radars for possible use with Soviet artillery units. Direction Finding determines location of transmitters through triangulation, as seen in an example from the Vietnam War.
Come on into the Museum and check it all out! In the meantime, see more photos below - click on each to see a larger view.