DR. DAVID KAHN DONATIONS - SUMMER 2010
In July and August of 2010, the AC Chairman traveled to Great Neck Long Island to pick-up a large donation of items from Dr. David Kahn. In addition to 25 boxes of books and papers, the major items included a rare framed Napoleon letter, two black and white ink prints by MG Joseph Mauborgne (1881-1971, co-inventor of the modern-day one-time encryption pad), a complete bound set of The International Journal of Intelligence, a complete bound set of Studies in Intelligence and National Security; and, two artifacts from the Bletchley Park rebuild of the Colossus computer (the world's first programmable computing device used to decipher German teleprinter messages during WW II). A picture of the Napoleon letter is included here and a brief history is also included below.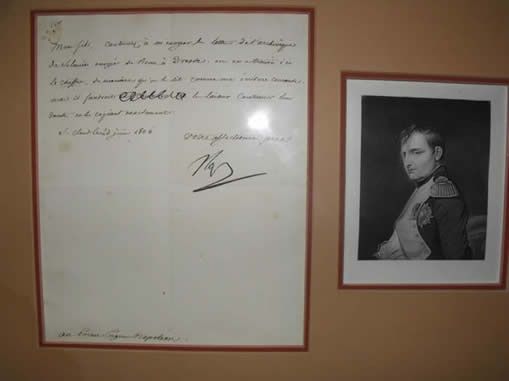 The Napoleon Letter: One of the most unique and rare items donated by David to date was a signed and framed 1806 letter from Napoleon to his son Prince Eugene Napoleon. In the letter Napoleon instructs his son to "keep sending me the letters from the Archbishop of Silesia sent from Rome to Dresden. The key has been found here so that they can be read just like ordinary writing. But it is necessary to let them continue on their way while copying them exactly." David acquired the letter in1984 in a sale of rare authenticated documents by the Altman Company in New York.
For background: Silesia is a historical region of Central Europe located mostly in present-day Poland, with parts in the Czech Republic and Germany. For centuries the area was a hotbed of religious, political, cultural and ethnic differences and long contested between Germany and France. In 1812 students at a university in Silesia took part in a rebellion against Napoleon, presumably with the support of the Archbishop of Silesia and the catholic archdiocese in Rome. This letter is a reference to Napoleon spying on the Archbishop, a likely precursor to the student rebellion and to the much larger conflict that started in 1812 called the War of Liberation. An estimated two million people were killed in that war in which a coalition of countries led by Germany defeated France resulting in Napoleon's exile to the island of Elba in the Mediterranean.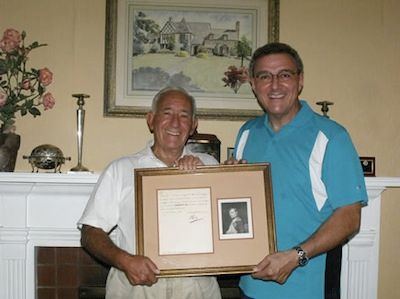 Donation Summary: Since December 2003 David has made seven separate donations of items to the NCM. In addition to the above mentioned items, a small sample of the content in his earlier donations includes: almost four dozen antiquarian books and manuals; over 200 boxes of books on nearly every aspect of cryptologic history and intelligence; rare editor's manuscripts and proof copies of his own books; numerous rare autographed first-edition books; rare foreign language pamphlets on codes and ciphers; numerous cipher-related toys and collectibles; rare Hollywood posters from movies with cipher themes; a number of small crypto devices; rare Nazi-era collectibles; and, hundreds of folders with thousands of pages of interview notes, letters and personal correspondence from David's distinguished career. NCM staff are working to catalogue all of the material from David's collection. Many items are already on display in the NCM exhibit hall, or available in the NCM Library as part of the David Kahn collection.