Support the NCMF's Ongoing Education Program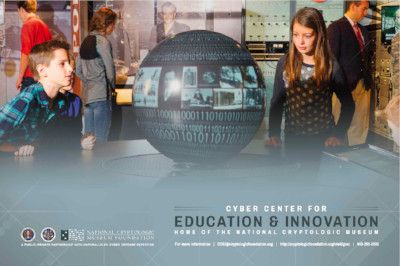 Thank you for visiting the Cyber Center for Education and Innovation (CCEI)- Home of the (New) National Cryptologic Museum (NCM) section of our website.
Although the Foundation provides support for educational displays and activities at the Museum, and also sponsors special award scholarships for Maryland History Day, a significant amount of our Education Initiatives are geared toward cybersecurity education and preparing more students to consider a career in cyber.
We hope you will consider donating to support our ongoing Education Program. Donations made using this form will be designated for the NCMF's "Education Fund." THANK YOU!
The IRS classifies the Foundation as a 501 (C)(3) organization, which, under the Federal Tax Code, permits you to deduct your contribution to the full extent of the law. All documents pertaining to the Foundation's tax exempt status are available for inspection upon request.