Event Calendar
2017 NCMF Summer Cryptologic Program Followed by NCM WWI Panel Discussion
Tuesday, June 20, 2017 10:00 am - 2:30 pm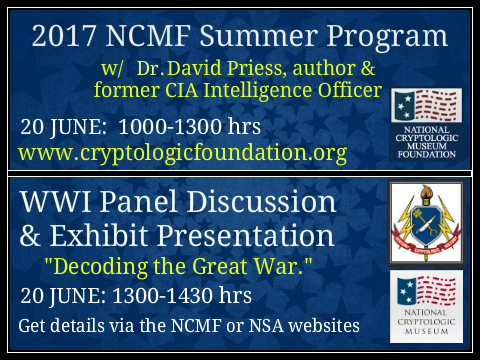 Location:
NCMF Program: CACI, Inc., 2720 Technology Drive, Annapolis Junction, MD 20701. WWI Discussion - at the National Cryptologic Museum.
Description:
Please join us for the 2017 NCMF Summer Program featuring Dr. David Priess, former CIA Intelligence Officer and author of the best seller The President's Book of Secrets. The program will take place at CACI, Inc., 2720 Technology Drive, Annapolis Junction, MD 20701. Registration is now open (see link below) and is $20 for all guests. Visit the NCMF table during lunch for special gifts for non-members who decide to join the Foundation. You can also see a flyer for the event via a link at the end of the page.

About Dr. David Priess
Dr. David Priess is author of The President's Book of Secrets: The Untold Story of Intelligence Briefings. For this breakout book, he became the first author to interview every living former President and Vice President, as well as dozens of other leading national security and intelligence leaders of the past 50 years—CIA Directors, National Security Advisors, White House Chiefs of Staff, Secretaries of State, Secretaries of Defense, and Intelligence Community executives.

Priess served at the CIA during the presidencies of Bill Clinton and George W. Bush as an intelligence officer, manager, and daily intelligence briefer, earning multiple awards and commendations. During the Bush administration, he took the President's Daily Brief and other intelligence materials every morning to senior recipients.

Priess obtained his PhD in political science from Duke University and has taught international relations classes at Duke University, George Washington University, and George Mason University.

His writings have appeared in outlets ranging from Foreign Affairs, Foreign Policy, War on the Rocks, and The Cipher Brief online to the Washington Post, Houston Chronicle, Skeptic magazine, and Security Studies.

Priess has presented in venues ranging from briefing rooms at the White House, Pentagon, and State Department to packed auditoriums across the country to national television, appearing often on CNN, MSNBC, and Fox News to discuss intelligence issues, campaign politics, and the presidency.

Learn more about Dr. Priess via his website www.davidpriess.com and follow him on Twitter (@davidpriess).

Learn more about The President's Book of Secrets as well as previous quarterly programs on our Quarterly Cryptologic Programs page - see link at the end of this page.

REGISTRATION DEADLINE is COB 16 June to make certain you will have a lunch.

Register online via the link at the end of this page. (See separate link for WWI program registration.)
-----------------------------------------------------------------------------------------------------------------------------------------------------------------------------------------

Also on 20 June, just after the NCMF Summer Program - As part of the ongoing WWI Centennial, the Museum and Center for Cryptologic History will host a WWI Panel Discussion: "Decoding The Great War," and presentation of the new World War One Exhibit at the National Cryptologic Museum. See below for information about presentations and speakers. CLICK HERE FOR EVENT REGISTRATION PAGE VIA EVENTBRITE. Link is also included at the end of the page.

This special event will feature the following presentations & speakers:

Presentation 1: 1305 - World War I as an Intelligence Revolution, Michael Warner, Command Historian, U.S. Cyber Command. The war altered many aspects of intelligence profoundly, and added new fields of the intelligence craft that had not existed before 1914. By the war's end, none of the major combatants ran their intelligence functions as they had at the conflict's beginning. No other conflict changed intelligence as much in so few years. Author and historian Michael Warner presents the evolution of intelligence collection on the battlefield from something virtually discounted to a major part of tactical and strategic decision making.

Presentation 2: 1325 - An Ear to the Air and an Ear to the Ground: Radio Intelligence in the American Expeditionary Forces, 1917-1918, Betsy Rohaly Smoot, Historian, Center for Cryptologic History, National Security Agency. This overview by the top World War I expert at the Agency's Center for Cryptologic History will cover cryptologic work in the American Expeditionary Forces. The presentation, supported by photographs and illustrations, will include stories of COMINT (communications intelligence) work and code making during The Great War. This presentation will be suitable for the general public and people who are interested in WWI but who have no specific cryptologic background.

Presentation 3: 1345 - Native American Code Talkers: the Secret Weapon of World War I, Dr. Steve Huffman, Retired Research Analyst, National Security Agency. The extraordinary story of Native American Code Talkers began in the trenches of France in World War I. The advent of telephone and radio gave military commanders a powerful new tool for command and control on the massive battlefields of that war, but also made their communications uniquely vulnerable to enemy eavesdropping. Native American Code Talkers in the U.S. Army provided perhaps the only truly secure method of voice communication used in that war, shortening battles and saving lives. This talk will tell the story of those first code talkers.

Q&A: 1345 - 1400
1405 - 1430: Presentation of World War 1 Display - Betsy Rohaly Smoot

This form stopped accepting submissions on June 17, 2017 7:00 pm EDT.