2021 NCF-CCEI Founders' Group Event
Mark Loepker, NCF Education Program Director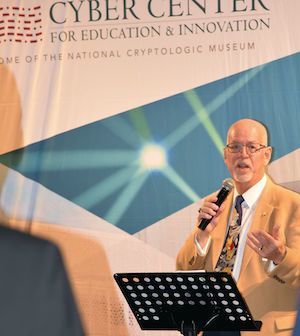 Today is a celebration of partnerships, what we've accomplished together, and what we can accomplish in the future. Most of the folks in this room have read the Congressional Cyberspace Solarium Commission report. Our partnership with USCYBERCOM, DreamPort, Whiteford Taylor Preston, The National Cyber Group, and University of Baltimore, led to a series of Commission webinars resulting in a white paper that highlighted issues impeding cybersecurity education. Among them were time and money, lack of teachers, lack of ubiquitous technology, lack of national, state, district, and local requirements/standards, lack of cybersecurity awareness, and lack of coordination and sharing of resources.
Partnering with the Maryland State Department of Education (MSDE), the Maryland Center for Computing Education (MCCE), the University of Maryland Global Campus (UMGC), and the National Security Agency (NSA) we conducted a CYBERSECURITY EDUCATION SURVEY FOR MARYLAND PUBLIC HIGH SCHOOLS. Special thanks to Dr. Rita Doerr for spearheading this effort. The results were like our Commission work – lack of funding, teacher development and cybersecurity awareness. Combine these two efforts with cyberseek.org's tracking of over 450K cybersecurity jobs that remain unfilled, and even the most uninformed person can realize we have a national crisis on our hands. It is no wonder General Nakasone commented that his top priority is talent. We share that passion. However, to get that talent walking through the doors at NSA, we must start in K-12. Eventually, we will get below 6th grade with our programs, but we are excelling in addressing 6-12 today because of the partnerships forged in this room tonight.
Partnerships come in many forms providing talent, time, and treasure. We celebrate them all tonight. You heard a few already, but it's important to highlight a few more. These partners are strategic, visionary, and believe in doing all we can to address the cybersecurity workforce shortfall. Northrop Grumman is our mainstay by committing to a nine-year partnership sustaining the foundation of our Education Program. Other partners like Lockheed, Northern Trust, Hewlett Foundation, Dark Enterprises, Raytheon, Gula Tech Foundation, and Arundel Community Development Services have teamed up with us to implement specific programs like our NEPRIS Cyber Chats, Cybersecurity Curriculum Guidelines (CCG), the Outsmart Cyberthreats booklet, a Virtual Cyber Game, and our Escape Room. Partnering with the Looker Foundation, we are able to continue many of these programs and distribute 20,000 Outsmart Cyberthreats booklets to schools across the US.
Other partners provide great quantities of talent and time that propel our programs. Teach Cyber, let by Dr. Melissa Dark, is keystone for our Cybersecurity Curriculum Guidelines from which her 501.c developed a full year high school program offered free to any school. Your packet provides more detail on that success. In addition, the CCG is used by University of AL Huntsville to develop their in-classroom program aimed at the rural and homeschool communities, along with the Army's JROTC cybersecurity program. Several states like Hawaii are using the CCG to inform their state level programs. Start-Engineering, led by Bob Black, is the talent behind the Outsmart Cyberthreats booklet. We are receiving rave reviews and a Georgia county has asked for 25K copies for every middle schooler in their county. Along with our partner Gula Tech Foundation, we are developing a version for senior citizens.
NiSuS is a long time partner with the NCF as they provided many of the kiosks inside the Museum. They are our partner in developing the Escape Room you will get to enjoy and challenge yourselves. NiSuS devoted time and talent to this project and were my partners during the 24th World Scout Jamboree in 2019 where the Escape Room debuted.
(Review of material presented via posters in the room.)
We have many potential ideas and opportunities, such as:
Develop a Crypto Community Program to provide multi-year, sequenced learning experiences that engage approximately 100 underrepresented youth in a cybersecurity community of practice designed to support the academic and social capital development that leads to the pursuit of cybersecurity college-to-career path. In partnership with other community groups, the National Cryptologic Foundation (NCF) will be the "home" of the community of practice. In addition to the resources available at the Museum, another aspect of the program is providing participants access to computing and cybersecurity tools, technologies, and curricular resources such as the Teach Cyber curriculum.
 
Study the cost and benefits of developing an in-house "Nepris" capability to share a virtual engagement with audiences to include K-20 cohorts. Leverage the NCF Web Portal and ZOOM License for an additional instantiation. Develop demographic collection metric capability to support offers-no barriers to entry - free participation by all.
 
Outreach to establish a community of interest cohort of K-12 schools. Leverage distribution of Gula Adventures funded data care booklet, produced by Start Engineering. Develop content worthy of their continued engagement.
 
Develop museum-related short thematic video documentary series, approximately 30 min each episode. For instance, teaming with the CHATHAM MARCONI MARITIME CENTER to show the story of U-Boat Enigma signal collection, Nebraska Ave decrypt on US Bombe, to military U-Boat intercept mission.
 
Develop a virtual reality tour of the new Museum. Include puzzles and gaming opportunities for students.
 
Develop traveling displays of NCM artifacts to K-20 locations to stimulate interest in cybersecurity, the NCM, and careers. An initial effort with the Rochester Institute of Technology stalled due to a lack of funding. Portable display designs are complete for an M-209 encryption device on loan by the NCM.
 
Expand our ability to provide cybersecurity expertise in K-12 classrooms via our Nepris partnership. Sponsor K-12 schools from underrepresented communities as new Nepris subscribers.
 
Develop a weekly podcast program on cybersecurity topics to promote awareness and career selection.
 
Develop an ongoing cybersecurity webinar series to promote Data Care and other timely topics of interest to the public.
 
Develop a high school mentorship program for underrepresented communities. This effort would foster internships, job fairs, and assist in early security clearance applications.
 
Engage our five-eyes partners to promote sharing opportunities. The NCF engaged with the Academic Outreach and Engagement office of the Canadian Centre for Cyber Security to engage in an event postponed due to COVID restrictions. The NCF would like to reach out to Bletchley Park for opportunities for collaboration.
 
Continue emerging engagements with the Chatham Marconi Maritime Center (https://www.chathammarconi.org/), showcasing the complete story of NAZI signal interception, decoding via Bombe, and resultant military engagement.
 
Engage National Governors Association and state departments of education in the CCG and acceptance of in-classroom materials.
 
Create a Cybersecurity Lab to demonstrate a Security Operation Center for students and the public at large.
 
Develop the capability to help identify and develop young talent for the cyber-related career pathways through career personality benchmarking.
 
Provide cybersecurity subject matter expertise to Theorem Studios as they develop "Cyber Nation, Redefining Public Security for the Digital Age" - a comprehensive public engagement project on digital security. This innovative, Creative Commons project will focus on the 130,000+ K-12 schools and the public at large.