2021 NCF-CCEI Founders' Group Event
Laura Nelson, NCF President & CEO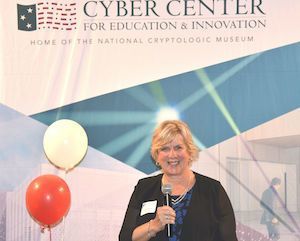 Welcome! For those who do not know me – I worked for NSA for 37 years and retired as a Senior Executive in 2018. At the end of 2018, I was recruited by Chris Inglis and Dick Schaeffer to serve as the first CEO of the Foundation. To be perfectly honest, I had no idea what I was in for, but it has been a challenging and fun ride so far. To be clear – this is not retirement!
Over the past three years, the NCF has undergone remarkable change as we have expanded our mission and reach across the nation. As Dick mentioned in his remarks, we have had to deal with some challenges, but have seized on the opportunities for virtual education to broaden our reach through a variety of programs.
As you likely noticed – we have a new name - the National Cryptologic Foundation! We believe our new name better reflects our mission to do the following:
Educate the public – As a nationally reputed provider of assured quality education resources focused on K-12 cohorts, our efforts help reduce cyber workforce deficits and current skills shortfalls.
Stimulate public engagement – By serving as a platform for robust proactive dialogue on issues of cyber policy, technology, and privacy among others AND to inspire a new generation of diverse students to explore cryptology and other STEM fields of study. - and -
Commemorate and celebrate all of have served in silence with valor and distinction in service to our nation. This includes promoting the value of the cryptologic mission to our national security and continuing to support the National Cryptologic Museum.
The change also eases our ability to raise funds to support our programs as we don't have to explain that we do more than support the Museum. It lessens confusion between the "Foundation" and the "Museum."
We have spent considerable time updating our foundational documents including our Bylaws and Articles of Incorporation (as was required for filing our new name with the State of Maryland), and have created several standing board committees with more to come. We have also completely overhauled our business processes to better align with how other nonprofit organizations operate.
You will soon hear about our ever-expanding Education Program, and will have the opportunity to experience some of our developments that Mark Loepker, our Education Program Director, will walk you through.
Introduction of staff present at event:
o Mark Loepker – Director of Education
o Christine Harding – Director of Marketing & Communications
o Rebecca Diamond – Director of Development
o Jackie Sherry – Controller & General Administrator
o Larry Castro – CCEI Project Manager
o Nancy Mahoney – Grant writer
o Jen Langdon – Education Program Coordinator
Board Members present for this event include:
o Our Executive Committee members – Toni Verstandig and Rand Griffin.
o Chris Roberti who is leading our Nominating & Governance Committee
o Guy Fillipelli and Al DiLeonardo
o And our newest member – Dr. Greg Fowler, President of UMGC
We are thankful to all of you who have donated to our cause over a number of years to build the CCEI and are excited about what we have accomplished in developing our CCEI programs.
Finally – it takes a lot to pull together an event, and of course, there are also those who carry the organization through the planning. I'd like to thank two of our Rock Stars who pulled this together – Christine Harding and Jackie Sherry. They took care of everything including the venue, invitations, materials, and so much more.